October 29, 2011
2011-12 Season - Vikings swamp Millikin 157-40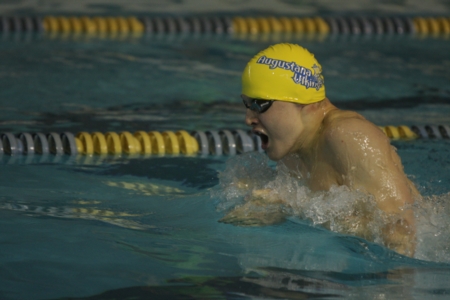 Augustana won it's 2011-12 season opener Saturday, defeating Millikin 157-40 at the Carver Center pool.
ROCK ISLAND, Ill. - It didn't take freshman Aaron Holt (Mount Vernon HS, Mount Vernon, Ill.) very long to make a mark on the Augustana men's swimming & diving program. Holt won three individual events on Saturday, October 29 as the Vikings began the 2011-12 season with a crushing 157-40 dual meet victory over Millikin.
Augustana won 11 of the 13 events in the meet, which was held in the Roy J. Carver Pool, and rolled to an easy win. Holt showed his versatility as he took the 200 individual medley in 2:01.12, the 100 butterfly in :55.52 and the 100 backstroke in :55.31. All three of those times were better than the best times put up by any Viking swimmer in those events during the 2010-11 season.
Holt was not the only multiple event winner for fourth year head coach Scott Johannsen's team on the day. Fellow freshmen Michael Duy (Marmion Academy, Aurora, Ill.) and Josh Wielenga (School Environmental Study HS, Apple Valley, Minn.) each won two events. Duy took the 200 freestyle with a time of 1:52.83 and the 100 freestyle in :50.49. In addition, he handled the second leg of the 200 freestyle relay that recorded a winning time of 1:33.36. He was joined on that relay team by sophomore Daniel Hinck (Harlem HS, Loves Park, Ill.), senior Charles Vogt (Oak Park-River Forest HS, Oak Park, Ill.) and sophomore Austin Zarbuck (Urbana HS, Urbana, Ill.).
Wielenga won the one meter diving with a score of 168.68 and took the three meter diving with 189.08 points.
Junior captain Chris Greaves (Morris HS, Morris, Ill.) won the 1000 freestyle in 10:54.78 and swam the leadoff leg of the 200 medley relay team that won with a time of 1:45.84. He was joined on the 200 medley unit by Jasen Hengst (Bettendorf HS, Bettendorf, Iowa), senior Joey Waldorf (Bloomington HS, Bloomington, Ill.) and Vogt. The 200 medley relay team put up a time that was better than the top time recorded by the Vikings last year.
Zarbuck won the 500 freestyle in 5:22.07 and was second in the 1000 freestyle (10:54.81). Vogt took second in the 50 freestyle (:23.60) and Hengst finished second in both the 100 breaststroke (1:08.49) and the 200 individual medley (2:15.78). Hinck took second in the 100 freestyle with a time of :54.28 and the 200 freestyle (1:53.36).
Freshman Alexander Putz (Oak Forest HS, Oak Forest, Ill.) took second in the 100 butterfly (1:02.11) and the 500 freestyle (5:44.71). Senior captain Denny Wind (Downers Grove North HS, Downers Grove, Ill.) was third in the 1000 freestyle (11:55.40) and the 100 freestyle (:57.36). Freshman Timothy Michaels (Pella Community HS, Pella, Iowa) placed third in the 200 freestyle (2:11.83) and the 500 freestyle (6:02.38) events.
Augustana's next meet will be a home dual against Monmouth on November 18 at 6:00 p.m.