October 29, 2011
2011 Season - Jones fifth, Vikings third at CCIW Championships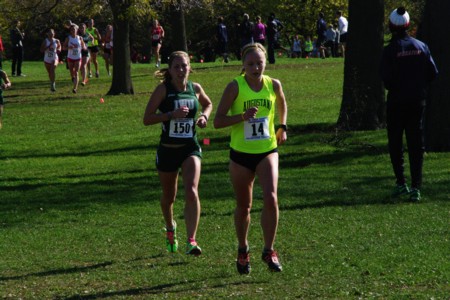 Sarahbeth Jones finished fifth and Augustana took third place at the CCIW Championships held Saturday in Chicago, Illinois.
CHICAGO, Ill. - Thanks to a sterling performance from junior Sarahbeth Jones (Warren Township HS, Wadsworth, Ill.), Augustana matched its highest performance in the College Conference of Illinois & Wisconsin women's cross country championship since 2007. The Vikings took third in the CCIW meet on Saturday, October 29 at Montrose Harbor in Chicago, Illinois with Jones leading the way with a fifth place individual finish.
Jones toured the 6000 meter layout at Montrose Harbor in 23:21.98. Alicia Zimmerman of North Central won the meet in 22:46.72 while her teammate, Krista Cota, was second in 22:48.58. Elise Anderson of Illinois Wesleyan took third in 23:05.41 and Kala Bingham of North Central grabbed fourth in 23:17.30, just four seconds in front of Jones.
Jones' fifth place finish was the highest individual finish for an Augustana runner since Liz Driscoll grabbed third in 2007. Jones helped lead the Vikings to a third place point total of 80 points. North Central won the event with 30 points while Illinois Wesleyan was second with 47. Wheaton (111), Carthage (119), Elmhurst (126), Millikin (214) and North Park (did not field complete team), rounded out the field.
Freshman Becca Sund (Palatine HS, Palatine, Ill.) placed 13th with a time of 23:54.58 and she was named the "Newcomer of the Year" in the CCIW for her performance. Sophomore Kristyn Barton (York HS, Elmhurst, Ill.) took 15th in 23:58.58. Junior Annie Heifner (Oregon HS, Oregon, Wis.) placed 18th in 24:07.53 and freshman Stephanie Burbidge (Palatine HS, Palatine, Ill.) rounded out the top five in 29th place with a time of 24:45.34.
Junior Theresa Coverick (Stagg HS, Palos Park, Ill.) took 30th in 24:45.43 and freshman Jessica Bacon (Rock Island HS, Rock Island, Ill.) was 31st in 24:48.39.
Augustana will be off this coming week before hosting the NCAA Division III Midwest Regional on Saturday, November 12 at Saukie Golf Course in Rock Island, Illinois.