October 29, 2011
2011 Season - Vikings split on Senior Day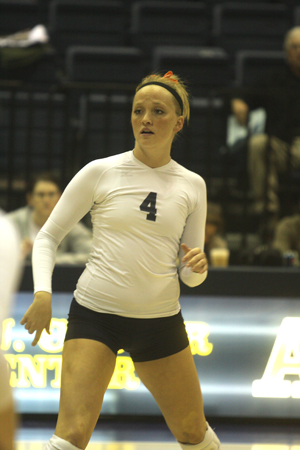 Augustana's lone senior Brianna Skeens had a total of 23 kills Saturday as the Vikings split a pair of matches at Carver Center. Augustana fell to Dubuque before defeating Webster.
ROCK ISLAND, Ill.-Augustana dropped an afternoon match to Dubuque in three sets Saturday, but bounced back to take a five-set thriller over Webster in the evening. The contests were part of Augustana's "Trick or Treat Matches" and the team also honored its lone senior, Brianna Skeens (Vernon Hills HS, Libertyville, Ill.), on the final home date of the season. The Vikings finish the regular season with a 9-22 record.
Dubuque 3, Augustana 0 (25-19; 25-22; 25-17)
Dubuque got 13 kills from Carly Green and 10 from Lauren McKissick as the Spartans defeated Augustana in straight sets. Dubuque took the first set 25-19 before coming from behind to take the second 25-22. They finished off the Vikings 25-17 in the third and final set.
Augustana got eight kills from freshman Emily Leazer (St. Viator HS, Mt. Prospect, Ill.), seven from Skeens and six from freshman Dory Dudley (Tremont HS, Tremont, Ill.). Junior Kelsey Mikula (Coal City HS, Morris, Ill.) had 22 assists and sophomore Katrina Colclasure (Tri-Valley HS, Bloomington, Ill.) 10 digs.
Augustana 3, Webster 2 (25-22; 25-20; 18-25; 19-25; 20-18)
The Vikings jumped out to an early lead in the opening set versus Webster and then weathered a Gorlok rally to claim a 25-22 win. It was Webster who jumped to a quick lead in set two, but the Vikings patiently worked their way back to win 25-20. The visitors won the third and fourth sets, 25-18 and 25-19, to force a fifth and deciding set.
Again, it was the Vikings taking a quick lead. Webster battled back to tie it and then survived four Augustana match points before the Vikings finally prevailed 20-18.
Leazer (20 kills), Skeens (16) and Dudley (10) again led the Vikings on the attack. Leazer added 13 digs and six service aces. Freshman Stephanie Petkovsek (Lisle HS, Lisle, Ill.) had 27 assists, three more than Mikula, and Colclasure led the way with 32 digs.