October 29, 2011
2011 Season - Vikings win wild one over Elmhurst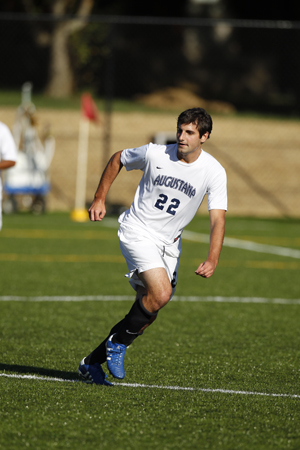 Senior Brett Bleecher's overtime goal gave Augustana a 3-2 win over Elmhurst Saturday at Thorson-Lucken Field.
ROCK ISLAND, Ill.-Brett Bleecher's (Marist HS, Oak Lawn, Ill.) goal in the fourth minute of overtime gave Augustana a 3-2 win over Elmhurst Saturday at Thorson-Lucken Field. The Senior Day win allowed the Vikings to finish the season with a 13-6-0 overall record and 3-4-0 in the CCIW. They fell just short of qualifying for the conference tournament. Elmhurst is now 8-6-4 overall and 3-2-2 in the league.
After a relatively quiet first half, Augustana junior Nick Wolfe (Neuqua Valley HS, Naperville, Ill.) got the scoring started with his fourth goal of the season in the 52nd minute. Sean Fidlow (Carmel HS, Gurnee, Ill.), one of four Viking seniors honored on the day, assisted on Wolfe's goal.
The action really picked up in the 74th minute. Bleecher, another Augustana senior, was fouled in the box and Fidlow converted the penalty kick for his 13th goal of the season and a 2-0 Viking lead. Two and a half minutes later, Elmhurst's Matt Sterner cut the advantage in half with his ninth goal of the season. Augustana goalkeeper Tyler Cowherd (Bettendorf HS, Bettendorf, Iowa) protested on the play and received a red card as a result. Four minutes later, with freshman Brett Johnson (Zion Benton HS, Beach Park, Ill.) in goal, Bluejay Michael Smith tied the game with his first goal of the season. Michael Delong assisted on the play.
Despite a flurry of Elmhurst shots in the final five minutes, regulation ended at 2-2, necessitating an overtime session. Bleecher's second goal of the season ended the match. It came on an assist from John McSpadden (Geneva HS, Geneva, Ill.).
In addition to Bleecher and Fidlow, defenders Cory DeGrave (Fremd HS, Palatine, Ill.) and Kurt Negwer (Lutheran North HS, Florissant, Mo.) were honored on Senior Day.