October 29, 2011
2011 Season - 2nd-half goal pushes Elmhurst past Vikings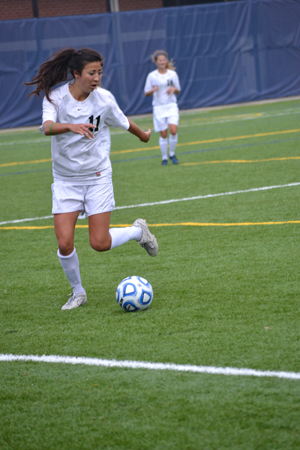 Senior Ashley Higuchi appeared to have tied Saturday's match with Elmhurst, but her second-half goal was nullified by an offside call and the Vikings fell 1-0.
ROCK ISLAND, Ill.-Elmhurst's Amy Baschen scored the only goal of the match in the 56th minute Saturday as the Bluejays knocked off Augustana 1-0 at Thorson-Lucken Field. Elmhurst improves to 13-3-1 overall and 4-2-1 in the CCIW, while the Vikings fall to 11-7-1 and 4-3-0 in conference play.
Less than two minutes after Baschen's goal, which came on an assist from Shannon Pimmel, it looked as though Augustana senior Ashley Higuchi (Smoky Hill HS, Aurora, Colo.) had leveled the match with the help of a Taylor Moesle (Sandburg HS, Oralnd Park, Ill.) assist. However the officials ruled Higuchi offside and the goal was nullified. That would be the Vikings' only scoring opportunity in the second half. After outshooting Augustana 11-7 in the first period, the Bluejays held the Vikings without a shot in the second 45 minutes while getting off 10 themselves.
Despite being outshot 21-7, the hosts did hold a slight 5-3 advantage in corners.
Augustana goalkeeper Kayla Radloff (West Chicago HS, West Chicago, Ill.) was credited with nine saves, while her Bluejay counterpart, Maddie Fitzpatrick, needed to make just one to record the shutout.
Both teams now advance to the conference tournament. Augustana will be the fourth seed and play at top-seeded Wheaton on Wednesday, November 2. Third-seeded Elmhurst will play at Illinois Wesleyan.