October 29, 2011
2011 Season - Augustana falls at 13th-ranked Wheaton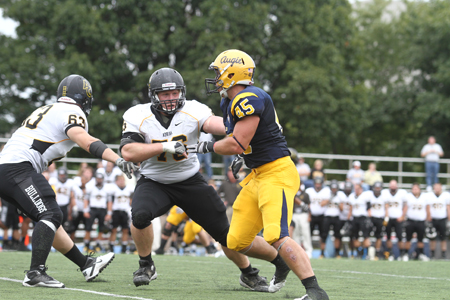 Junior linebacker Joe Weber had two sacks, two fumble recoveries and a forced fumble, but Augustana fell 36-7 at Wheaton.
WHEATON, Ill.-Wheaton quarterback Garrett Meador threw for 368 yards and five touchdowns Saturday as 13th-ranked Wheaton defeated Augustana 36-7 at McCulley Field. The Vikings fall to 2-6 on the year and 2-3 in CCIW play, while the Thunder improves to 7-1 overall and 4-1 in the league.
Wheaton took the opening kickoff and went 55 yards in eight plays. Meador connected with Teddy Watkins for a five-yard touchdown pass to cap the drive and put the hosts up 7-0.
After getting a 41-yard punt return from Micah Markley, it took The Thunder just five plays to go 38 yards for another touchdown. Meador found Brannen Dorman for a five-yard touchdown pass. Scott Roche's point after made it 14-0 with 7:19 left in the first quarter. With 35 seconds left in the period Roche converted 28-yard field goal attempt to make it 17-0.
Augustana put together a 14-play, 62-yard march early in the second quarter, but came away empty when Brady Rogers' (Cherokee Trail HS, Aurora, Colo.) 47-yard field goal came up short.
Meador and the Thunder went right back to work, going 75 yards in just five plays. The Wheaton quarterback connected with freshman Mark Hiben for his third touchdown pass of the afternoon, this one a 45-yarder, to make the score 23-0. The Vikings blocked Roche's PAT attempt. Then, just before halftime, it was Meador and Hiben hooking up again on a 24-yard scoring strike. Roche's point after attempt was again no good and Wheaton took a 29-0 lead to the locker room.
Meador's final touchdown pass of the day came with 2:38 left in the third quarter when he connected with Justin Zeller for a nine-yard score. That play capped an 11-play, 72-yard march and put the Thunder up 36-0. Meador play just one more series before getting the rest of the day off.
Augustana got on the board with 4:28 left when senior quarterback David Lee (Springfield HS, Springfield, Ill.) hit Keith Abbey (Rich East HS, Park Forest, Ill.) for a one-yard touchdown. The Vikings needed to only go nine yards for the score after Joe Weber's (Marmion Academy, South Elgin, Ill.) second fumble recovery of the day. Rogers' PAT made it 36-7, Thunder.
Wheaton held Augustana to just 181 total yards on the day. Junior running back Brett McWilliams (Hononegah HS, Roscoe, Ill.) led the rushing attack with 51 yards on 11 carries. Lee finished 13 of 24 for 116 yards, one touchdown and no interceptions. Weber and sophomore safety Mike O'Donoghue (Mundelein HS, Mundelein, Ill.) led the Viking defense, which held Wheaton to just 92 rushing yards on 32 carries, with nine tackles each. In addition to the two fumble recoveries, Weber also had a forced fumble and a pair of sacks on the day.
Augustana returns to Ericson Field on Saturday, November 5, hosting Elmhurst in a 1:00 p.m. start.