2012 Season - Assistant Coaches

Tim McChesney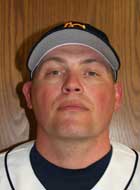 Tim McChesney will begin his eight season as a full-time assistant coach at Augustana. After working with the pitching staff for the first six years, he switched last season and worked with the hitters and outfielders. McChesney, who had been the head coach at Black Hawk Junior College since 1995, joined the Vikings in the summer of 2004. He compiled a record of 279-174 in nine seasons at Black Hawk, winning five Arrowhead Conference championships. He coached 41 all-conference players, 27 all-region honorees and 49 academic all-conference selections during that time frame. He also led Black Hawk to second place in the Illinois Region IV tournament twice (1996 and 2002). He served as the head coach of the Rock Island Legion Post #200 team for three seasons (2000-02) winning the district in 2000 and 2002. Prior to that he was an assistant coach from 1997-99, helping Post #200 place third in the American Legion World Series in 1997 after winning the district, state and regional titles. He also worked as an assistant coach at Davenport Assumption in 1995 and Rock Island High School from 1992-95. McChesney played collegiately at Lincoln College in Lincoln, Illinois and Western Illinois. He was team captain twice at Western and was the Leathernecks "Pitcher of the Year" in 1990. He was the "Pitcher of the Year" at Lincoln in 1989 and served as team captain and was named to the all-state team.
John Furlong


John Furlong is in his 13th year as an assistant coach for the Vikings in baseball. Furlong, who at one time was both the head baseball and football coach at St. Ambrose University in Davenport, Iowa, has been a fixture at Augustana since 1990. He coached the defensive backs and was the recruiting coordinator for the football team from 1993 until 2003. He now serves as the athletics department recruiting coordinator and is the junior varsity baseball coach and will work with the hitters. Furlong is a graduate of Central College in Pella, Iowa and during his eight year stint as the head football coach at St. Ambrose he had the Fighting Bees in the NAIA playoffs three times.
Mike Meyers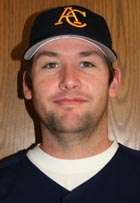 Mike Meyers will be in his fourth year as an assistant coach on the Augustana baseball staff. Last year he was placed in charge of the pitching staff. Meyers, who spent 11 years in professional baseball with a variety of clubs, will work with the Viking pitchers. A native of Tillsonburg, Ontario, Canada, Meyers pitched for current Augustana pitching coach Tim McChesney at Black Hawk College in Moline during the 1996 and 1997 seasons. He was drafted by the Chicago Cubs in the 26th round of the 1997 draft and in 2000 he was added to the Cubs' 40 man roster. He pitched two seasons for the AAA Des Moines Cubs, with his last year coming in 2003. He signed with the New York Mets as a free agent in 2004 and inked with the Milwaukee Brewers in 2005. Meyers played several seasons as a member of Canadian National team and was in several Olympic qualifying tournaments. He is currently a student at Western Illinois where is earning his degree in recreation, park and tourism administration.