100 years of sociology at Augustana
October  31, 2011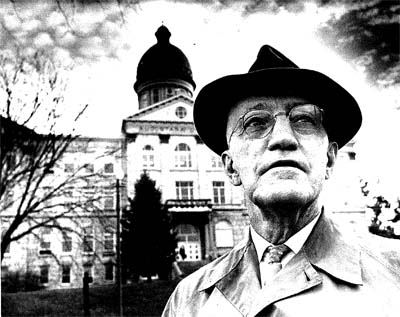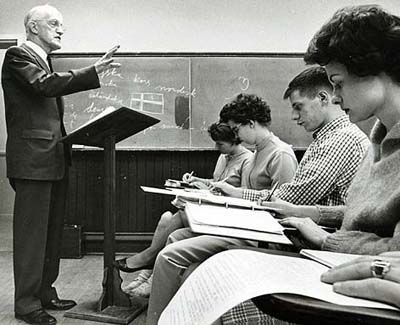 Albert F. Schersten '11 in front of Old Main and in class. (Courtesy Augustana Special Collections)
In the 1910-11 academic year, Augustana saw its first offering of a course in sociology. Only 50 years old at the time, the college was young — especially among its liberal arts peers — to offer such a class.
Yale University was the first American higher education institution to offer a course titled "sociology," beginning 1875 and taught by William Graham Sumner. However, the first department of sociology was established at the University of Chicago in 1892.
According to Augustana's department of Special Collections, 20 years passed before Augustana added a major in sociology. It's very likely the professor who established the department had been a student in the very first class. This professor was Albert F. Schersten '11, who taught at St. Olaf College in Northfield, Minn., and Bethany College in Lindsborg, Kansas, before returning to Augustana in 1919.
Dr. Schersten's interests had a range that surely benefited the department he initiated. He taught English at Augustana for several years before turning his attention to a sociology program. According to a 1930-31 college catalog, he is listed as Albert Ferdinand Schersten, A.M., Professor of Sociology and Political Science. (He completed a Ph.D. at the University of Iowa in 1932.)
His colleagues at the time included such historic names as Carl Fryxell (economics), Margaret Olmsted (Latin and mathematics) and the Rev. August Kjellstrand (Christianity). Other familiar Augustana names, such as Mabel Arnell Youngberg and Major Arthur Swedberg—instructors in oral expression and surveying, respectively—were matched with fields that are since much altered in the college curriculum, or left behind.
But the sociology department has prospered since. The department's early course topics included some that have progressed over time, some relatively unchanged, and one class in anthropology. Other titles from 1930-31 include social psychology, population problems, social origins, immigration, rural sociology, American race problems, social pathology and criminology.
In 2009 the department expanded its anthropology offerings and developed a new major in anthropology. Today, sociology and anthropology are two among more than 70 majors and related fields of study at Augustana.