October 27, 2011
2011-12 Season - Vikings tabbed for eighth by CCIW coaches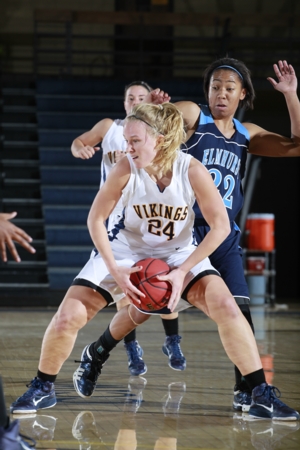 Senior Natalie Runge will be one of the top returnees for Augustana in 2011-12. The Vikings were tabbed for eighth place in the CCIW in a poll of the league's coaches.
ROCK ISLAND, Ill. - Coach Bobbi Endress' Augustana women's basketball team has been tabbed for an eighth place CCIW finish in a poll of the conference coaches. The Vikings finished 7-18 overall a year ago and tied North Park for seventh in the league with a 3-11 mark.
Carthage was the coaches' choice as CCIW favorite by a narrow margin. The Lady Red garnered 45 points, one more than second-place Illinois Wesleyan, the defending league champs. Those teams received four and three first-place votes, respectively.
Wheaton, who got the other first-place vote, finished third in the poll with 38 points, while Millikin, with 33 points, rounded out the upper half.
Elmhurst (24 points) was picked for fifth, followed by North Park (20), North Central (11) and Augustana (nine).
2011 CCIW Women's Basketball Poll
Rank

Team

Points

First Place
Votes

1

Carthage

45

4

2

Illinois Wesleyan

44

3

3

Wheaton

38

1

4

Millikin

33

5

Elmhurst

24

6

North Park

20

7

North Central

11

8

AUGUSTANA

9