October 27, 2011
2011-12 Season - Lofty expectations for 2011-12 Viking men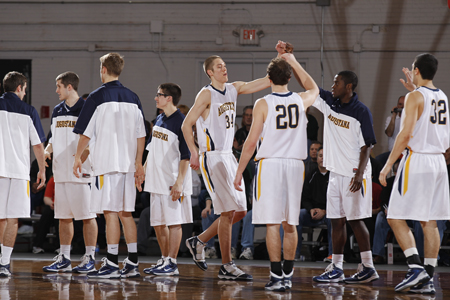 Senior tri-captains Bryant Voiles, Brian DeSimone and Troy Rorer will lead Augustana in 2011-12. Coming off a 27-4 campaign, the Vikings are ranked second in the nation by D3hoops.com and third by The Sporting News.
Coming off a 27-4 season a year ago, the expectations are high for the Augustana men's basketball team in 2011-12. The Vikings have already garnered a number two ranking in D3hoops.com's preseason Top 25 and a preseason number three national ranking from The Sporting News as well as the favorite's role in the CCIW preseason coaches' poll.
13th-year Augustana head coach Grey Giovanine returns four starters and 11 letter winners from last year's squad, which won a share of the CCIW regular season title. The Vikings then claimed the conference tournament championship, recording the two biggest margins of victory in the six-year history of the event, and went on to reach the quarterfinals of the NCAA Division III tournament.
The 2011-12 Vikings will be looking to capture the program's sixth CCIW regular season championship in 10 years and its fourth conference tournament title since the event was first held in 2006.
While returning a good portion of last year's team, Giovanine will have to find replacements for center Kyle Nelson and guards Drew Croegaert and Mike Avallone, who were lost to graduation. Nelson was a two-time first team All-CCIW selection and led the Vikings with averages of 13.7 points and 6.6 rebounds per game last season. Giovanine, who has compiled a 226-93 (.708) record in 12 seasons at Augustana, thinks Nelson will be missed most on the defensive end. "He was a great defender. All of our championship teams have had good defensive centers." The loss of Croegaert, the team's backup point guard, also leaves a conspicuous void.
Among the returnees is a trio of seniors who'll share the team captaincy. Bryant Voiles (Byron HS, Byron, Ill.), Brian DeSimone (Buffalo Grove HS, Wheeling, Ill.) and Troy Rorer (Bettendorf HS, Bettendorf, Ill.) give this year's team a wealth of experience and leadership.
Voiles, a 6' 9" wing player, was a second team All-CCIW selection a year ago and earned 2011-12 preseason All-America honorable mention from The Sporting News. He's the club's leading returning scorer and rebounder with averages of 12.4 points and 5.8 rebounds per game a year ago. He was also the Vikings' top three-point shooter, making 58 of 140 (.414).
The 6' 1" DeSimone will be in his third season as Augustana's starting point guard. He averaged 9.5 points per game last year and led the team with 86 assists and 37 steals. He was a third team All-CCIW selection. The 6' 2" Rorer, who alternates between starter and super-sub, is the team's top defender and averaged 6.2 points and 3.9 rebounds a game a year ago.
Another senior, 6' 4" Chris Anderson (West Carroll HS, Mt. Carroll, Ill.), who started 18 of 31 games in 2010-11, will be in the mix at a wing spot. Anderson was fourth on the team with an average of 8.1 points per game last year and third with 34 three-point field goals.
In trying to replace Nelson, Giovanine will take advantage of plenty of depth up front. Juniors Kameron Norton (Downers Grove North HS, Downers Grove, Ill.), George Dexter (Bettendorf HS, Bettendorf, Iowa) and Brandon Kunz (Lake Zurich HS, Lake Zurich, Ill.) split time at power forward last year and Kunz also saw minutes at center along with classmate Luke Scarlata (JS Morton HS, Berwyn, Ill.). The 6' 7" Norton started nine games and averaged 4.8 points and 3.6 rebounds per game while shooting .590 from the field. Dexter and Kunz, both 6' 7", started 19 and three games, respectively and the 6' 9" Scarlata came off the bench and shot .667 from the field. 6' 7" junior Kevin Waibel (Morton HS, Morton, Ill.) and 6' 8" sophomore Kevin Schlitter (Maine South HS, Park Ridge, Ill.), last year's junior varsity MVP, could crack that rotation as well.
After DeSimone, Rorer and Anderson, there's less experience at the guard spots and who'll replace Croegaert "remains to be seen," according to Giovanine. He said, "We're having an ongoing competition," with 6' 0" senior Eric Safranski (Putnam County HS, Peru, Ill.), 5' 9" sophomore Sam Calcagno (Mayo HS, Rochester, Minn.) and 6' 0" freshman Danielius Jurgutis (Downers Grove South HS, Downers Grove, Ill.) among the candidates. Senior Griffin Dwyer (Hersey HS, Arlington Heights, Ill.) and sophomore Austin Lusson (Lyons Township HS, Lyons, Ill.) could see time at shooting guard.
All of this year's high expectations are just fine with Giovanine. "There's no downside. We embrace it, welcome it. National recognition is great for enthusiasm surrounding the program and great for recruiting."