October 27, 2011
2011-12 Season - Endress excited to get 2011-12 season underway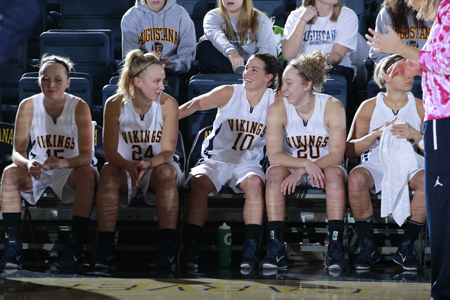 Seniors Brianna Skeens, Natalie Runge, Whitney Miller and Elizabeth Phillips (L-R) will provide experince and leadership for the 2011-12 Vikings.
With a roster that includes eight seniors, Augustana head women's basketball coach Bobbi Endress is eager to get the 2011-12 season underway. Endress and the Vikings will be looking to build on last year's late-season surge that saw the team win three of its last five road contests in conference play.
With those eight seniors, Endress thinks experience and leadership should be a big positive for this year's club. "We're hoping it's huge for us," said the sixth-year Viking head coach. "More was asked out of this senior class, when they were freshmen, than would have been in a more established program. It was hard on them, but as a result, they're more experienced. Many of them have also been forced into expanded roles because of injuries."
Injuries played a role in a 7-18 season a year ago. Augustana lost second-leading scorer and rebounder Natalie Runge (St. Dominic HS, O'Fallon, Mo.) to a knee injury after 15 games and another starter, Dawn Kernich (Mt. Olive HS, Mt. Olive, Ill.), after just eight games. Endress said Runge, a 5' 10" senior forward who averaged 11.0 points and 6.3 rebounds before the injury, is ready to go. "Natalie looks strong. You wouldn't know she was injured." Kernich, a 5' 7" senior guard, has progressed more slowly but will be cleared to practice on November 3.
The Vikings will have to replace last year's leading scorer and rebounder and second team All-CCIW selection Kristen Fox. Fox, who was the team's MVP, averaged 14.0 points and 7.0 rebounds per game in 2010-11. Endress doesn't expect one player to replace those numbers. "We made some tweaks to the offense to make sure it's more of a collective effort."
Runge, 5' 5" sophomore guard Molly Etheridge (Normal Community HS, Bloomington, Ill.) and 5' 6" senior point guard Whitney Miller (Clinton HS, Clinton, Iowa) are the leading returning scorers for the Vikings. Etheridge averaged 8.7 points last year and her 23 successful three-point field goals lead all returnees. Miller averaged 6.4 points per game and led the team in assists with 85 in 2010-11 and "is playing head and shoulders above where she was last year," according to Endress.
A pair of 5' 10" seniors, Elizabeth Phillips (Grayslake North HS, Lake Villa, Ill.) and Brianna Skeens (Vernon Hills HS, Libertyville, Ill.), are the other returning starters for the Vikings. Phillips started 21 of 25 contests a year ago, averaged 4.7 points and 4.0 rebounds per game, and won the team's "Most Improved" and "Viking" awards. Skeens was the team's "Defensive Award" winner and will join the basketball team at the conclusion of the volleyball season.
Two other Vikings who Endress hinted could be in for big seasons are Gianna Pecora (Downers Grove South HS, Darien, Ill.) and Kristina Howard (Cherokee Trail HS, Aurora, Colo.). Pecora "had a great off-season," according to Endress, who also called the 5' 5" junior guard, "probably our most consistent outside shooter." The 5' 10" Howard is benefiting from senior confidence and Endress said, "We're beginning to see things out of her that we were hoping for."
Sophomore forwards Jessica Baids (West Chicago HS, Carol Stream, Ill.) and Chaney Tambling (Dwight Township HS, Dwight, Ill.) also saw considerable playing time last year and should be in the mix up front. Baids started two games and averaged 4.7 points and 3.2 rebounds per game.
Endress expects the Vikings to be stronger defensively with better quickness and more athleticism this year. She says 5' 9" guard Lauren Hoffman (Wheaton North HS, Winfield, Ill.), a junior transfer, has the potential to be "a game-changer on the defensive end."
Another newcomer who could have an impact, once she gets past some injury issues, is freshman Shelby Whigham (Barrington HS, Barrington, Ill.), a 5' 11" inside-outside player.
All of this has Endress anxious to get the season started. She summed up this year's team, saying that behind the leadership of the seniors, "They've really come together and understand the concept of accountability."