October 26, 2011
2011 Season - Augustana wins 1-0 at North Central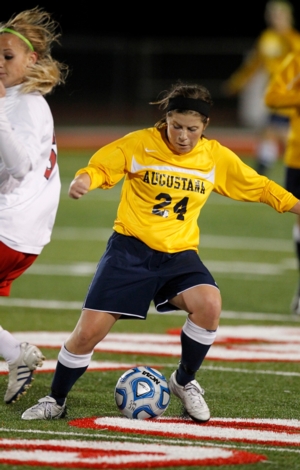 Senior Erin Coulson scored Augustana's only goal, but the Vikings made it hold up and came away with a 1-0 win at North Central.
NAPERVILLE, Ill.-Visiting Augustana got a goal from Erin Coulson (Naperville, Ill. Neuqua Valley HS, Hermosa Beach, Cal.) six minutes in Wednesday and held off North Central to get a 1-0 win in Naperville, Illinois. The Vikings, rated ninth in the latest NSCAA Central Region rankings, improve to 11-6-1 overall and 4-2-0 in the CCIW, while the Cardinals fall to 7-8-1 on the season and 0-5-1 in conference play.
Coulson's goal, her fifth of the season, came on the game's first shot just past the six minute mark.
The Viking defense, led by the back line of Mary Pat Holtrop (St. Charles North HS, St. Charles, Ill.), Kelly Johnson (Homewood-Flossmoor HS, Flossmoor, Ill.) and Kirsten Boesen (Normal West HS, Gibson City, Ill.) as well as goalkeeper Kayla Radloff (West Chicago HS, West Chicago, Ill.), was able to make that goal hold up over the final 84 minutes, recording its 10th shutout of the season. Radloff made five saves and posted her sixth solo shutout this year.
Cardinal keeper Amy Frazzini was also credited with five saves. Each team got off just nine shots in the defensive struggle. Augustana had a 3-1 edge in corners.
The Vikings, who currently sit in third place in the CCIW, finish regular season play on Saturday, October 29, hosting Elmhurst in a 1:00 p.m. match at Thorson-Lucken Field. That contest will be the opener of a women's/men's doubleheader.