October 26, 2011
2011 Season - Vikings get 3-1 road win over North Central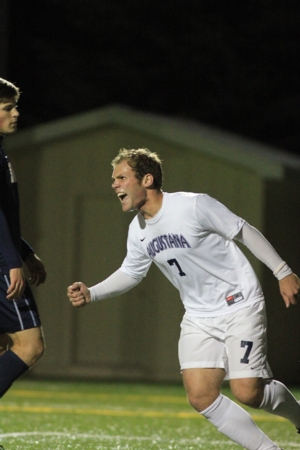 Sophomore midfielder Matt Shipon tied the match with his third goal of the season and Augustana went on to post a 3-1 win at North Central Wednesday night in Naperville, Illinois.
NAPERVILLE, Ill.-After falling behind 1-0 early in the second half at North Central Wednesday, Augustana responded with three goals to claim a 3-1 win. Matt Shipon(South Elgin HS, Elgin, Ill.), Sean Fidlow (Carmel HS, Gurnee, Ill.) and Grant Halter (Glenbard West HS, Glen Ellyn, Ill.) each found the net in the second period for the Vikings, who improved to 12-6-0 on the year and 2-4-0 in the CCIW. The Cardinals are now 9-5-2 overall and 1-3-2 in the conference.
After a scoreless first half, North Central's Ryan Carroll put the Cardinals on top 1-0, scoring his sixth goal of the season on a 25-yard blast less than three minutes into the second period. Shipon leveled the score four minutes later with his third goal of the year.
Senior forward Fidlow, Augustana's leading scorer, gave the Vikings the lead in the 64th minute with his 12th goal of the season and Halter added an insurance goal in the 80th minute. The goal was the sophomore midfielder's second of the season.
Freshman Brett Johnson (Zion Benton HS, Beach Park, Ill.) made seven saves in goal for Augustana and improved his record to 4-0-0 on the year. Carroll's goal was just the second that Johnson has allowed in 443 minutes this year.
The Vikings wrap up regular season play on Saturday, October 29 when they host Elmhurst, the 10th-ranked team in the National Soccer Coaches Association of America's Central Region. That match is scheduled for 3:30 p.m. and will be the second half of a women's/men's doubleheader at Thorson-Lucken Field.