October 25, 2011
2011 Season - Vikings fall to 10th-ranked Carthage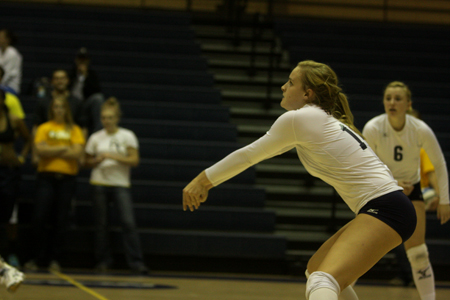 Freshman Emily Leazer led Augustana with 12 kills and tied teammates Katrina Colclasure and Kelsey Mikula with a team-high nine digs in Tuesday night's loss to Carthage at Carver Center.
ROCK ISLAND, Ill.- Carthage, the 10th-ranked team in the latest American Volleyball Coaches Association poll, defeated Augustana in straight sets Tuesday night at Carver Center. The Lady Reds improved to 27-6 on the season and captured the CCIW regular season title with a 7-0 record, while the Vikings dropped to 8-20 overall and 1-6 in the league.
Augustana fell behind early in the first set, but battled back to cut the margin to two before Carthage prevailed 25-21. The Lady Reds took the second set 25-13 and the third by a score of 25-9.
Freshman Emily Leazer (St. Viator HS, Mt. Prospect, Ill.) had team-highs of 12 kills and nine digs for the Vikings. Senior Brianna Skeens (Vernon Hills HS, Libertyville, Ill.) added 10 kills. Kelsey Mikula (Coal City HS, Morris, Ill.) and Katrina Colclasure (Tri-Valley HS, Bloomington, Ill.) each equaled Leazer's dig total and Mikula led Augustana with 29 assists.
Carthage got six kills each from Lauren Dembkowski and Michelle Madeja.
Augustana is next in action at St. Ambrose Friday at 7:00 p.m.