New audiology booth benefits students, community
October  25, 2011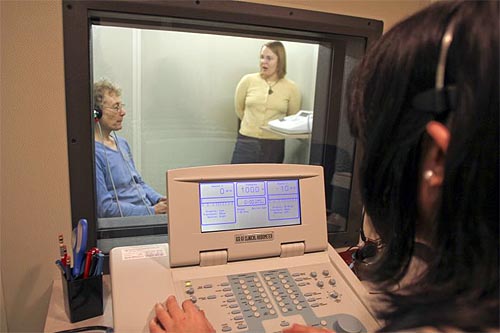 Dr. Ann Perreau (center) in the new audiology booth with Margi Rogal, left. In front at the controls is student Andrea Mazza. (Augustana Photo Bureau/Mark Marogil)
Augustana College students studying communication sciences and disorders (CSD) are putting a new audiology booth to good use providing assessment and intervention services for Quad-City area residents.
To celebrate the arrival of the booth and the impact it already is making, faculty and students will host an open house from 4-6 p.m. on Tuesday, Nov. 15, at the Betsey Brodahl Building, 851 34th St.
Within two weeks of its delivery to campus in late September, the booth was being used by Augustana students to help both children and adults.
"At first it will be used mainly as a diagnostic tool for hearing screening and audiologic testing," explained Dr. Ann Perreau, CSD assistant professor. "Eventually we hope to be fitting hearing aids as well as providing other types of intervention."
Dr. Perreau worked in the highly ranked Otolaryngology Department at the University of Iowa Hospitals and Clinics before joining Augustana's full-time faculty in August. She said "individuals of all ages, who we will test and help, who will benefit most significantly."
An estimated 250 patients can be tested at Augustana per year. "This will relieve the backlogged local system that currently relies on just a couple booths," said Dr. Perreau.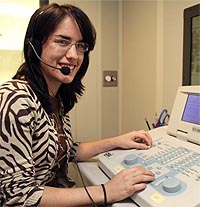 Student Andrea Mazza works at the controls of the new audiology booth. The senior from River Grove, Ill., is a communication sciences and disorders major.
Having a booth on Augustana's campus not only benefits the community but also CSD students. These students gain valuable real-world, clinical experience to help prepare them for graduate school and beyond.
The audiology, sound-treated booth and audiologic equipment, valued at more than $55,000, were made possible by grants from the Riverboat Development Authority, the Community Foundation of the Great River Bend, and the Scott County Regional Authority.
Sam Schlouch
Senior Communication Director
(309) 794-7833
samschlouch@augustana.edu