October 22, 2011
2011 Season - Vikings fall 1-0 at Illinois Wesleyan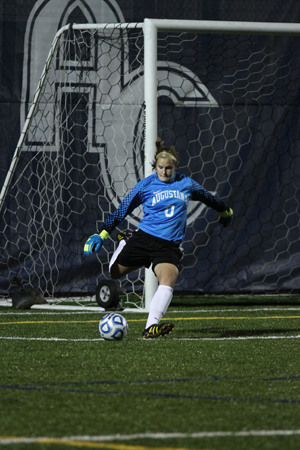 Augustana goalkeeper Kayla Radloff recorded six saves Saturday, but the Vikings fell 1-0 at Illinois Wesleyan.
BLOOMINGTON, Ill.- Molly O'Brien scored the only goal of the match in the 58th minute Saturday, leading Illinois Wesleyan to a 1-0 win over Augustana in Bloomington, Illinois. The Vikings are now 10-6-1 on the season and 3-2-0 in conference play. The Titans improve to 12-2-1 overall and 4-0-1 in the CCIW.
Tillie Bill was credited with the assist on O'Brien's goal which she got past Viking goalkeeper Kayla Radloff (West Chicago HS, West Chicago, Ill.) into the upper left corner of the net.
Augustana, the eighth-ranked team in the NSCAA's Central Region, suffered its second straight loss by one goal to a team ranked in the top three. The Vikings dropped a heartbreaking 3-2 double overtime decision to top-ranked Wheaton on Wednesday before Saturday's loss at third-rated Illinois Wesleyan.
The Titans held a substantial 16-4 edge in shot attempts in the match. Radloff made six saves in goal for the Vikings, while IWU keeper Renata Butikas needed to make just one save for the shutout.
Next up for coach Scott Mejia's Vikings is a Wednesday, October 26 match at North Central. Augustana is scheduled to square off with the Cardinals at 7:30 p.m.