October 22, 2011
2011 Season - Augustana wins second in a row 27-24 over NPU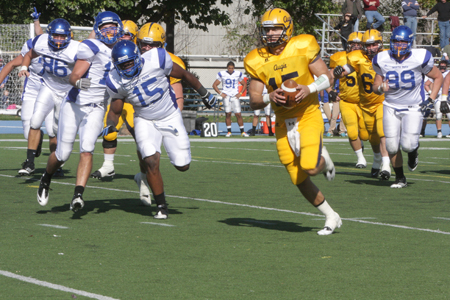 David Lee ran for one touchdown and passed for two more as Augustana came away a 27-24 winner over North Park Saturday at Ericson Field.
ROCK ISLAND, Ill.-A pair of long David Lee (Springfield HS, Springfield, Ill.) touchdown passes less than five minutes apart in the second half spelled the difference Saturday as Augustana came away with a 27-24 Homecoming win over North Park at Ericson Field. With the win, the Vikings improve to 2-5 on the year and 2-2 in the CCIW, while North Park falls to 3-4 overall and 0-4 in the conference.
With 3:30 left in the third quarter and Augustana trailing 17-14 and facing a third-and-four at its own 39-yard line, Lee connected over the middle with tight end Keith Abbey (Rich East HS, Park Forest, Ill.), who crossed the field and outran the North Park secondary down the sideline for a 61-yard touchdown. A missed extra point left the score at 20-17.
Augustana stopped North Park on the next series, but gave the visitors another chance with a roughing the kicker penalty. The call was one of eight for 85 yards against the hosts on the day. The defense came through and stopped North Park again and Augustana took over at its own 20 following a punt. From there, it took Lee just one play to find Nick Krantz (Moline HS, Moline, Ill.) along the south sideline. Krantz made a nice adjustment on the catch and outran the defender for an 80-yard touchdown and a 27-17 lead.
After a scoreless first quarter, Augustana got on the board first when Eric Chandler (Cary-Grove HS, Cary, Ill.) fought his way into the end zone from five yards out on the second play of the second period. Chandler's run capped a 12-play, 80-yard march. The visitors answered with a 13-play, 77-yard drive of their own, finished off with a one-yard Drew Walkington touchdown run.
The hosts went 61 yards in seven plays on their next possession to retake the lead 14-7. The drive was kept alive by a fake field goal on fourth-and-three from the North Park 16-yard line. Freshman placekicker Brady Rogers (Cherokee Trail HS, Aurora, Colo.) took a pitch from holder Danny Hess (Naperville North HS, Naperville, Ill.) and got around left end for a gain of nine yards and a first down. Lee scrambled seven yards for the go ahead touchdown two plays later.
Not to be outdone, North Park again responded, this time going 76 yard on nine plays for the tying score. Quarterback Tyler Krebs found receiver De' Marien Hampton in the right corner of the end zone with a 37-yard touchdown heave with 32 seconds remaining until halftime.
After Augustana misplayed the second half kickoff and went three-and-out deep in its own territory, the visitors took over at the Augustana 49-yard line following the punt. From there, they put together their third straight scoring drive, going 42 yards on 14 plays over eight minutes and taking a 17-14 lead on a 24-yard Tony Kebede field goal. Lee connected with Abbey to regain the lead for the hosts just three plays later.
The visitors had one last gasp, narrowing the lead to 27-24 with 1:21 left in the game. Flanker Sam Cochiaro took a pitch on a reverse and found Hampton in the end zone for a 6-yard touchdown pass. That play capped a 72-yard, nine-play drive. The hosts sealed it however, when Zachary McCullough (St. Charles North HS, St. Charles, Ill.) corralled Bryn Nottoli's onside kick attempt and Lee was able to take a knee twice to end the game.
Lee finished the day 10 of 13 for 199 yards and a pair of touchdowns. Krantz was his most frequent target, with three catches for 96 yards including the 80-yarder. The Viking running game produced 169 yards on 29 carries, spread among nine ball carriers. Freshman Antonio Owens (Naperville North HS, Naperville, Ill.) led the way with 51 yards on four carries and A.J. Hoger (Cary-Grove HS, Cary, Ill.) added 49 on four carries.
Linebacker Erik Westerberg (York HS, Elmhurst, Ill.) added 14 tackles, including 13 of the solo variety, to his league-leading totals. Defensive end Luke Anderson (Lemont HS, Lemont, Ill.) had eight stops and Sean Walker (Annawan HS, Annawan, Ill.) came up with a big interception and batted away another pass in the end zone.
The Vikings will attempt to extend their winning streak when they go on the road to Wheaton, Illinois to face the Wheaton Thunder on Saturday, October 29 at 1:00 p.m.