October 2011
What's new? Tell us and we'll tell others
Many of the stories on Augustana's website, in various newsletters and the magazine are the result of an email sent to sharenews@augustana.edu. But how do tips via email result in news about the college? Every Friday, writers, editors and photographers from Communication and Marketing meet to look through the sharenews email and plan their editorial efforts. Also attending the meeting are representatives of athletics, arts and music, OSA and admissions. Faculty and guests from other departments often are invited as well.
Together, they sift through the suggestions for ideas that will inform, inspire, entertain and do the best job of "telling the Augustana story." They also look for the best way to tell each story: Would it be a good video, photo feature, Facebook post, full-length article, or all of those? Everyone who attends the meeting usually walks away with one or two story or photo assignments. Often, the best stories are the result of someone on campus taking the time to write a quick email to sharenews@augustana.edu. The story ideas can be almost anything: human interest, achievements, events, etc. All ideas are welcome.
Guests are welcome, too. If you would like to participate in a Friday editorial meeting, send a note to sharenews@augustana.edu. But be warned: You could get an assignment!
Grant funds impact WVIK, interns and education
WVIK Augustana Public Radio was one of 25 Quad-Cities non-profit organizations to obtain grant funding from the Amy Helpenstell Foundation. On Oct. 12, the station received $10,000 to fund the fourth year of its internship program.
"WVIK's internship program gives a young person six months of 40-hour-per-week work, where he or she can get a good head start on a career," says News Editor Herb Trix. The recent grant will fund the next six-month internship, starting in March 2012.
Herb knows the grant funds, and ultimately the real-world experience, can make a tremendous impact on an intern. Coming to WVIK as recent graduates of Knox College, University of Wisconsin-Superior and University of Iowa, two of those previous interns have gone on to jobs in public radio—one in Baton Rouge, La., and the other in Chicago. The most recent intern is finishing his master's at the University of Iowa.
With only two full-time newsroom employees, the intern helps the station deliver more news stories to its audience. "And it even allows Michelle [O'Neill, news editor] and me to schedule some vacation time," Herb says.
He adds that part of the station's mission is focused on education. The internship program "certainly provides a valuable, in-depth educational experience" to complement what WVIK does daily to help listeners learn through music, news and public affairs programming.
If you know a graduating senior or recent graduate who is an especially promising communicator, encourage him or her to contact Herb Trix.
Field Notes
Field Notes illustrates different kinds of experiential learning that take us places off campus. In this issue, Stephanie Kendzior '13 talks about last week at Longfellow Elementary, where Augustana juniors in elementary education led Longfellow students for academic help and fun activities during the school's fall intercession.

Planning lessons without certainty of number of students or ability range proved difficult, but we came prepared and up for the challenge! To prepare for the unknown, we collected materials for large-group activities and brought iPads for more individual work.
Monday morning, we arrived at Longfellow early, eagerly waiting to see just how many students we would be working with. However, only about a third of the 60 expected students were present. Although initially surprised, we quickly rearranged groups (adjusting lesson plans and grade levels) to fit the needs of the 20 excited students who were running around and laughing in the gym.
The atmosphere remained full of positive energy throughout the week. The experience was beneficial for not only Longfellow students, who received individual attention, but also Augustana juniors who were able to put into practice the concepts they have been learning in Dr. Egan's Methods of Mathematics and Dr. Hyser's Methods of Literacy courses. The "fun physical activity" portion of the day incorporated arts and crafts, sports, music and dance organized through ClubEd. The students were so well behaved and excited to be there, greeting teachers and volunteers with an abundance of hugs every morning.
The students received quality academic review and social interaction they might not otherwise experience in a class of 20 students or at home during their break. Augustana teachers were able to practice thinking on their feet—using available materials, adapting lessons to students' interests, and improvising with activities such as parachute games, sight-word kickball and the cha-cha slide! The interest of Longfellow students and Augustana volunteers during week 8 provides promising success for the After School Clubs that ClubEd hopes to organize at Longfellow beginning winter term.
The Longfellow students also enjoyed having male teachers around. Most students by the second day asked, "What are we going to be doing today?" However, one first-grade boy excitedly asked me, "When will the Augustana boy teachers be here!?"
The impatience in this moment was proof of how much the students value our time. No matter if they make outstanding improvements by the end of intercession or not, the time we spend with them and our support in their life is more meaningful and appreciated than we may think. Success for a teacher can be counted by the little things—like a child excited to learn at school during fall break.
New Face on Campus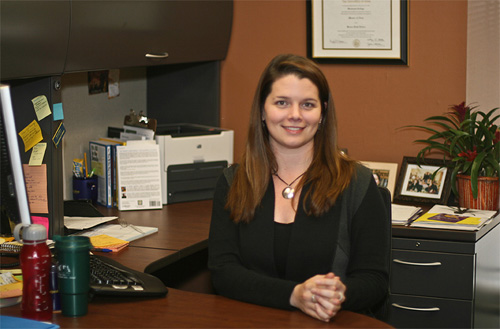 Karen Eilers, Director of Career Development, B.A., political science, Indiana Wesleyan University M.A., student development, University of Iowa
After graduating from Indiana Wesleyan with a bachelor's in political science, Karen Eilers wanted "to be part of the scene" in Washington, D.C. She landed a job in U.S. Sen. Chuck Grassley's office on Capitol Hill.
"I worked there for just over a year, and then at 23, I had a career crisis," Karen says. "The work was interesting, but it wasn't satisfying. I knew it wasn't what I was supposed to do."
She moved back to her parents' home in Cedar Rapids, Iowa, and started "career counseling" herself. Six months later, she enrolled in the master's program for student development at Iowa and found her calling. "I help students look inside their own lives and discover the steps they need to take to get them where they want to go," says Karen, who has four years of counseling experience at Central College. "I don't make their decisions for them. I provide the information they need to keep moving. I see myself as a stepping stone."
Karen wishes she had had the initiative to visit a career counselor when she was an undergrad. "I was one of those students who thought 'oh, I've got time... I'll do it later,' but never did." She's been surprised by the number of Augustana students—more than she expected, considering she is new to the position—who have sought her out since she arrived in August.
Outside of the office, Karen enjoys cooking, photography and travel. She once dug ditches (irrigation) while directing an alternative spring break trip to Moab, Utah, with Central College students, but that's a story for another time.
From the Cabinet
Lynn E. Jackson, Vice President of Advancement
As Authentically Augustana comes to a successful close on December 31, 2011, I want to update the campus community. As of August 31, the Authentically Augustana comprehensive campaign is at $132,854,996. This is $32,854,996 over our goal. The cash endowment goal of $20 million has been exceeded by $4.5 million; the capital projects goal of $30 million is $4.5 million under the goal; the unrestricted goal of $6 million has been exceeded by $2.5 million; the annual operations restricted goal of $14 million has been exceeded by a remarkable $11 million; and the deferred endowment goal has been exceeded by an amazing $18.7 million.
Alumni and parent engagement has increased dramatically in the last two years through many new initiatives: alumni events have increased from eight to 40; Facebook and LinkedIn are now routinely used by alumni relations, and we send an e-newsletter every other month. We introduced a new parents' program and a regional alumni chapter in D.C., brought together a Chicago advisory group, and we are exploring a new future alumni (current students) initiative.
There is a science and an art to alumni engagement, and we are looking at a promising model developed by a peer of mine at Susquehanna University. We will explore it over the next several months, partly to determine how we might modify it, given our already full program and more limited staff resources. I believe this model will help us go deeper into the engagement process with many alumni, and in the long run allow us to develop more meaningful relationships.
We are now working on a "Plan for After the Campaign," which includes development of a comprehensive overview of strategies and goals in the areas of 1) endowment growth, 2) opportunities for funding of the Center for Student Life, including naming opportunities, and 3) a list of overall naming opportunities. The gift acceptance policy is being reviewed, a plan for increasing planned gifts is being implemented, annual goals have been established, and the president's priorities have been determined.
The cost to raise a dollar for Augustana College during FY 2010-11 was 8.6 cents, and we can all be proud of this. According to Supporting Advancement, the national average is 20 cents for each dollar raised.
We are very pleased with the efficiencies we have implemented over the past few years. With the end of the Authentically Augustana comprehensive campaign in sight, along with its record gifts and pledges to the college, recognition and stewardship becomes our focus and the vehicle through which we move our donors to their next giving opportunity.
Look for the upcoming installation of an interactive philanthropy center in the College Center lobby, generously funded by trustee Chip Hammersmith. The Philanthropy Center will provide campaign and ongoing major donor recognition; philanthropy education for students, alumni and visitors; and a vehicle for sharing college points of pride for years to come.
Seen & Heard
"Toward the end of summer and egged on by student designers who preferred more variety, I morphed the geometric shapes into signs for representative art media for the other side of the same entrance, which began the subsequent process of breaking out of my earlier geometric constraint. The passing-on of several colleagues such as Mike Nolan and Mel Peterson in the spring and summer had something to do with my letting go the purist interest to correlate shapes and colors."—Peter Xiao, professor of art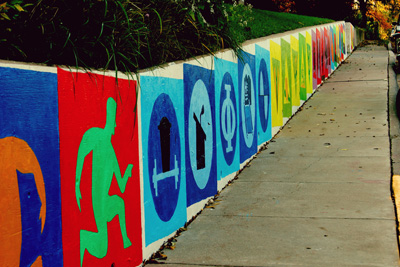 Peter Xiao's Painting I class created the mural on a campus wall along 6th Avenue.
Acknowledge is published by the Office of Communication and Marketing. Contact Beth Roberts, editor. Photos in this issue were contributed by Drew Barnes '14, Daisy Hoang '14 and Maren Mathisen '12 of the Augustana Photo Bureau. To see the calendar of upcoming Augustana events, go to www.augustana.edu/calendar.