October 20, 2011
2011-12 Season - CCIW coaches' chat set for October 27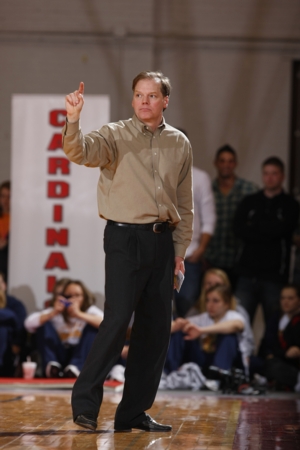 Augustana head coach Grey Giovanine will be available to share his thoughts on the upcoming season when he takes part in the CCIW's coaches' chat on October 27.
NAPERVILLE, Ill.-Fans wondering what Augustana coach Grey Giovanine's take is on the upcoming men's basketball season can find out on Thursday, October 27 when the College Conference of Illinois & Wisconsin will conduct its third annual coaches' live chat. Giovanine will be one of four league coaches available in the 10:45 to 11:15 a.m. time slot.
The live chat with the CCIW's women's coaches will take place beginning at 9:00 a.m. The league's men's coaches follow at 10:10. The first group will consist of Millikin's Matt Nadelhoffer, North Central's Todd Raridon, North Park's Dylan Howard and Wheaton's Mike Schauer. Giovanine will be among the second quartet, joining Carthage's Bosko Djurickovic, Elmhurst's Mark Scherer and Illinois Wesleyan's Ron Rose.
The CCIW will release the results of its pre-season coaches' poll following the interactive chat.
Giovanine's Vikings went 27-4 a year ago, achieving the second-highest single season win total in school history. They won a share of the CCIW regular season championship, claimed their third CCIW tournament title in the six-year history of the event and reached the Elite Eight of the NCAA Division III tournament. Augustana returns four starters and 11 letter winners from that team and has achieved a number three pre-season ranking from The Sporting News.
The men's coaches chat can be accessed at:
http://www.cciw.org/sports/2011/10/13/MBB_1013113518.aspx?id=699