October 19, 2011
2011 Season - Millikin defeats Vikings in three sets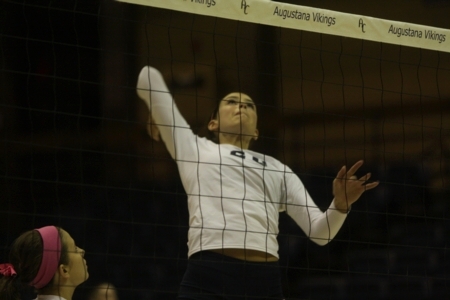 Junior Sarah Williams had six kills in Augustana's three-set loss to Millikin at Carver Center Wednesday night.
ROCK ISLAND, Ill.-Millikin edged Augustana 25-23 in the opening set and went on to a three-set victory at Carver Center Wednesday night. The Vikings are now 7-16 overall and 1-5 in the CCIW, while the Big Blue improves to 19-9 and 5-1 in conference play.
After dropping the second set 25-14, Augustana battled before falling 25-22 in the third. Millikin was led by a match-highs of 11 kills from Kelsy England and 27 assists from Brittany Cardott.
Augustana was led by eight kills and 15 digs from freshman outside hitter Emily Leazer (St. Viator HS, Mt. Prospect, Ill.). Junior middle blocker Sarah Williams (Rockford Lutheran HS, Loves Park, Ill.) added six kills. Sophomore defensive specialist Katrina Colclasure (Tri-Valley HS, Bloomington, Ill.) led the Vikings with 10 assists, while freshman setter Stephanie Petkovsek (Lisle HS, Lisle, Ill.) added eight, to go along with 12 digs. Freshman outside hitter Samantha Kammerman (Sherrard HS, Milan, Ill.) had a pair of service aces.
Coach Jamie Walters' Vikings are next in action at the Wisconsin-Stevens Point October Tournament on Friday and Saturday, October 21 & 22. They're scheduled to face the hosts at 5:00 p.m. and St. Norbert at 7:00 p.m. on Friday and Carroll at 10:00 a.m. on Saturday.