October 19, 2011
2011 Season - Wheaton downs Vikings 5-2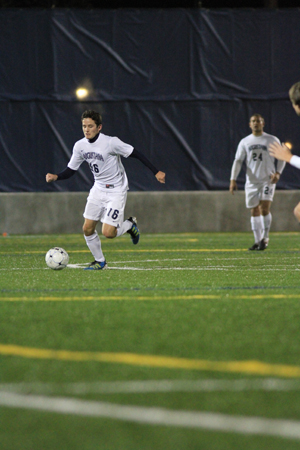 Freshman Nathan Kyes assisted on Nick Wolfe's game-tying goal Wednesday night, but it wasn't enough to keep the Vikings from falling to Wheaton 5-2 at Thorson-Lucken Field.
ROCK ISLAND, Ill.-Wheaton scored three goals in a span of less than five minutes early in Wednesday's match and Augustana could never recover, falling 5-2 to the Thunder at Thorson-Lucken Field. Wheaton improves to 8-6-2 overall and 2-1-1 in the CCIW, while the Vikings fall to 11-5-0 and 1-3-0 in the league.
Wheaton's combo of Jordan and Drew Golz figured prominently in the Thunder's early barrage. Jordan scored on an assist from Drew to make the score 1-0 in the seventh minute. After Augustana's Nick Wolfe (Neuqua Valley HS, Naperville, Ill.) tied it in the ninth minute with his second goal of the season, the Golz's were at it again. This time, Jordan returned the favor, assisting on Drew's goal to make it 2-1 in the 11th minute. Just 30 seconds later, it was again Jordan assisting on a Thunder goal, this one from Adam Blackman to make it 3-1.
In the 20th minute, it was Drew scoring again on an assist from Jordan to push the Wheaton advantage to 4-1. Kevin Wyrostek (Naperville North HS, Naperville, Ill.) scored off a Wolfe feed in the 36th minute and the teams went to halftime with the Thunder leading 4-2.
Wheaton's Jason Lollar scored the final goal of the night in the 56th minute. Jordan Golz recorded his fourth assists of the night on the play.
Augustana actually held slight advantages of 17-16 in shot attempts and 7-5 in corners. Freshman Nathan Kyes (Oswego HS, Oswego, Ill.) assisted on Wolfe's goal.
Next up for the Vikings is a trip to Bloomington, Illinois on Saturday, October 22 to face Illinois Wesleyan. That match is scheduled to start at 4:00 and will be part of a men's/women's doubleheader versus the Titans.