October 19, 2011
2011 Season - Vikings drop 2OT heartbreaker to Wheaton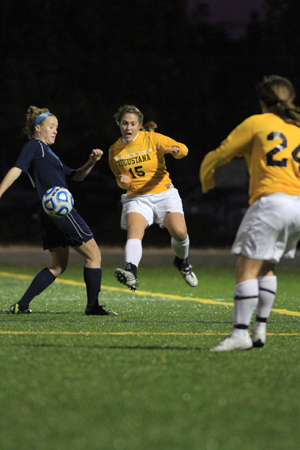 Bridget Shrigley had a goal and an assist Wednesday night, but the Vikings fell just short of knocking off undefeated Wheaton, falling 3-2 in double overtime.
ROCK ISLAND, Ill.-Augustana was three and a half minutes away from knocking off undefeated Wheaton Wednesday night at Thorson-Lucken Field, but couldn't quite seal the deal. The Thunder's Laura Karsten scored with 3:25 left in regulation to tie the game at 2-2 and Wheaton, now 15-0-1 on the year and 4-0-0 in the CCIW, went on to a 3-2 win in double overtime.
Bridget Shrigley (Wheaton Warrenville South HS, Wheaton, Ill.) gave the hosts an early 1-0, scoring her third goal of the season in the third minute.
In the seventh minute, Wheaton got the equalizer on a penalty kick. The Thunder's Jaime Oreweiler was tackled in the box and was able to slide her penalty kick into the right side of the net past an outstretched Kayla Radloff (West Chicago HS, West Chicago, Ill.). The teams went scoreless for the final 38 minutes of the period and went to intermission tied 1-1.
Augustana outshot Wheaton, the top-ranked team in the NSCAA's Central Region, 11-5 in the first half.
The second half started well for the Vikings. Augustana regained the lead in the 48th minute when Shrigley found Taylor Moesle (Sandburg HS, Orland Park, Ill.) behind the Wheaton defense and Moesle converted, getting her seventh goal of the season to make it make the score 2-1. Just five minutes later, Moesle had a chance to make it 3-1 with a penalty kick of her own, but Wheaton's Hilary Barreto came up with the save to keep the Thunder deficit at one.
It stayed that way until Karsten's goal tied it in the 87th minute. After a scoreless first overtime period, Wheaton's Val Lelle ended the marathon with a header off a beautiful Keri Shannon corner in the 107th minute.
After being outshot in the opening period, Wheaton held a commanding 27-5 edge in shot attempts during the second half and overtimes. The Thunder also had a 5-2 advantage in corners.
Augustana falls to 10-5-1 overall and 3-1 in the CCIW heading into a big contest Saturday at Illinois Wesleyan. That match is scheduled for 6:30 p.m. in Bloomington, Illinois.