Special dome-lighting production planned to celebrate Old Main's renovations
October  19, 2011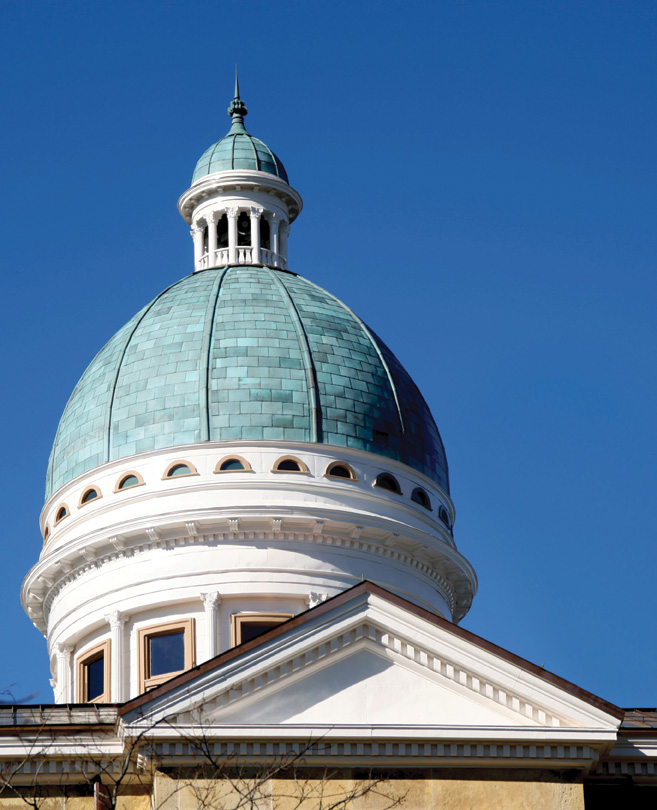 Old Main
The dome of Old Main, Augustana College's signature building along Seventh Avenue, will be lit in a ceremony on Saturday, October 22, as part of this year's Homecoming celebration. The lighting will commence at approximately 7:30 p.m., and the community is invited to enjoy the spectacle from Augustana's campus.
Eight student trombonists, with Dr. Samantha Keehn, fellowship instructor in music, will perform as Old Main is lit from the ground up. A colored-light show within the dome itself, designed by Adam Parboosingh of the college's theatre arts department, will top off the sound and light production.
Since the late 1880s, Old Main and its lofty dome has stood as an enduring symbol for Augustana College and its Swedish heritage and commitment to the liberal arts. "Old Main has been at the heart of Augustana's campus for over a century," said President of the College Steven C. Bahls. "Every living graduate has had a class in this historic building."
The dome-lighting production celebrates the generosity of those who donated funds for Old Main's exterior renovations, which included repairing the dome, replacing the roof, cleaning and tuckpointing the exterior stone, and replacing windows. The ceremony also celebrates those funding the building's interior renovations, scheduled to begin in the summer of 2012. These include modernizing classrooms with advanced technology, adding computer kiosks, updating faculty offices and seminar rooms, and creating a forum space.
Members of Augustana's Class of 2001, who are celebrating their 10th anniversary reunion at this year's Homecoming, had a role in the lighting of the dome. Their class gift, in part, funded the lights, which will continue to shine nightly after the ceremony.
Sam Schlouch
Senior Communication Director
(309) 794-7833
samschlouch@augustana.edu