October 18, 2011
2011-12 Season - 2011-12 WOMEN'S TENNIS REVIEW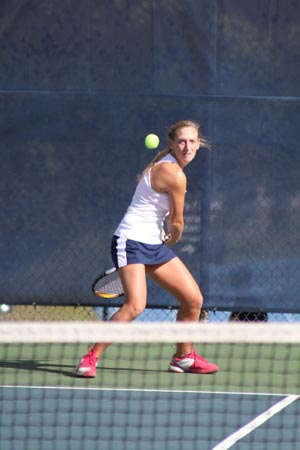 Sophomore Kim Sawyer posted a 17-4 record at number one singles for the Vikings in the 2011 fall season. She finished second in the College Conference of Illinois & Wisconsin and is now 46-11 in singles play during her career at Augustana.
Augustana women's tennis team finishes fourth at CCIW Championships to finish fall season; Kim Sawyer named to first team all-conference and Brittany Reece named to second team
The Augustana women's tennis team wrapped up its fall season with a fourth place finish at the College Conference of Illinois Wisconsin tournament on October 7-8 in Kenosha, Wisconsin. The top four finish means the Vikings will play in the spring for the right to move on to the NCAA Division III national tournament.
The Vikings tallied 33 points in the event while Wheaton led the way with 78 points, Carthage placed second with 45 points and Illinois Wesleyan third with 35 points. Rounding out the group were North Central (30), Elmhurst (10), and Millikin (0). The Vikings fourth place finish comes after a two match winning streak which moved the team record to 7-6 in the fall.
Augustana began the year 0-2 after losses to Illinois Wesleyan and Grinnell. However, the Vikings responded to win four of the next five matches with wins over Loras, Millikin, Elmhurst, and St. Norbert and a loss to Carthage to move to 4-3 on the season. After splitting the weekend of September 17 th with a loss to Cornell and a win against Lake Forest, the lady Vikings had a 5-4 record. The next two matches pitted Augustana against tough conference opponents in losses to Wheaton and North Central. First year head coach Jon Miedema's team responded well with two wins to close out the season and wrap up a 7-6 campaign.
While the fall season didn't bring about many new faces to the team the squad did face playing many players in unfamiliar positions. Sophomore Kim Sawyer (Batavia HS, Batavia, Ill.) who split time at first and second singles last year led the way as she went 17-4 at first singles. This moves her all-time singles record to 46-11 for a .807 winning percentage that currently ranks first on the all-time singles winning percentage list. Also, in combination with her doubles wins with partner Meghan Wethington (Geneseo HS, Geneseo, Ill.) , Sawyer moved to 73 career wins. That puts her on pace to reach the 100 win club (combined singles and doubles wins) by next fall. This is a feat which only 15 players have accomplished in the history of Augustana women's tennis. In addition to her records Sawyer was named "Player of the Week" in the CCIW on September 14 th and earned first team all-conference honors for the second year in a row.
Playing second singles for the Vikings was senior captain Brittany Reece (Neuqua Valley HS, Naperville, Ill.). Reece played many matches for the Blue and Gold last season but had to make the adjustment from five singles a year ago to second singles. Despite the 4-12 singles record Reece played well and her game improved as the year progressed. In the conference tournament Reece provided a pivotal first round win over North Central and went on to place fourth. In addition Reece combined with partner Krista Panko (Geneva HS, Geneva, Ill.) to go 6-5 at number two doubles and earn a third place finish in the conference tournament as they defeated Illinois Wesleyan 8-6 in the third place match. In the semi finals of the tournament the Vikings were edged 6-3, 4-6, 6-4 by Wheaton.
Panko played number three singles as well as number two doubles. Although she moved up to a higher position than last year, she still managed to go 8-7 on the year. She was 0-1 at fourth singles, 3-5 at third singles, 1-0 at two singles and 1-0 at first singles. She also saved her best for last as she won 8-1 in the third place match to go 3-1 in the conference tournament. The win also sealed fourth place for the Vikings.
Playing four singles and first doubles for the Blue and Gold was junior Meghan Wethington (Geneseo HS, Geneseo, Ill.) . Wethington played sparingly in singles last year and had to get accustomed to her new role at fourth singles. She did so admirably as she used tremendous effort to go 7-9 on the season. Wethington also had a key first round win in the CCIW tournament as she defeated Carthage in three sets. Wethington and Sawyer teamed up to go 5-12 on the season at number one doubles where they lost several well contested matches. However, despite those narrow losses early in the year the duo used a close match of their own to edge North Central 9-8 in a pivotal match on Saturday at the conference tournament.
Fifth singles saw split time between Emily Kaczmarek (Glenbard South HS, Lombard, Ill.) and Katie Scharnagle (St. Francis College Prep, Lisle, Ill.) . Both sophomores also had to get adjusted to brand new roles and did so with tremendous attitudes and hard work. Kaczmarek went 4-5 on the season going 1-0 at fourth singles and 3-5 at fifth singles. She handed the reigns over to Katie Scharnagle in the conference tournament as Scharnagle finished 3-1 at the tournament to earn a third place finish with key wins over Illinois Wesleyan and Carthage.
Kaczmarek not only played well in singles but also teamed with freshman partner Chelsea Lavin (Downers Grove South HS, Downers Grove, Ill.) to go 6-6 on the year at third doubles. The duo earned a key first round match win in the conference tournament fighting back from down 6-1, 4-1 to pull off the victory in three sets.
Rounding out the top six singles players was sophomore Mariah Bardo (Sterling HS, Sterling, Ill.). Bardo went 10-7 on the year compiling the second highest winning percentage of any singles player on the team with a .667 average. Bardos steady play earned her a fourth round finish at the conference tournament with a pivotal three set win over North Central in the first round.
Augustana finished the fall with an overall winning percentage of .544 in singles and .481 in doubles. In addition the Vikings played 11 players with 11 players notching a win throughout the fall season.
2011 CCIW CHAMPIONSHIPS
October 7-8, 2011***Carthage College***Kenosha, Wisconsin
TEAM SCORES: 1. Wheaton (72); 2. Carthage (45); 3. Illinois Wesleyan (35); 4. Augustana (33); 5. North Central (30); 6. Elmhurst (10); 7. Millikin (0).
| | |
| --- | --- |
| POS | RESULT |
| Singles | |
| 1. | Elizabeth Worowicz (WHEATON) def. Kim Sawyer (AUGIE) 6-1, 6-2 |
| 2. | Bari Reynolds (CARTHAGE) def. Sarah Ray (Wheaton) 2-6, 6-4, 6-1 |
| | Brittany Reece (AUGIE) finishes fourth |
| 3. | Kirsten Boyer (WHEATON) def. Kristina Naidicz (CARTHAGE) 2-6, 6-4, 6-0 |
| | Krista Panko (AUGIE) finishes third |
| 4. | Lauren Schlabach (Wheaton) def. Madeline Urban (NCC) 6-2, 4-6, 6-0 |
| 5. | Marissa Shults (Wheaton) def Stephanie Brunetti (NCC) 6-1, 6-3 |
| | Katie Scharnagle (AUGIE) finishes third |
| 6. | Julia Carey (WHEATON) def. Amanda Bizub (CARTHAGE) 6-1, 6-2 |
| | Mariah Bardo (AUGIE) finishes third |
| Doubles | |
| 1. | Elizabeth Worsowicz/Sarah Ray (WHEATON) def. Hollis McPeek/Kristina Naidicz(CARTHAGE) 6-3, 7-5 |
| | Kim Sawyer/Meghan Wethington (AUGIE) finishes fourth |
| 2. | Bari Reynolds/Erin Henrickson (CARTHAGE) def. Melanie Milling/Marissa Shults (WHEATON) 6-3, 6-1 |
| | Krista Panko/Brittany Reece (AUGIE) finishes third |
| 3. | Stephanie Brunetti/Madeline Urban (NCC) def. Kirsten Boyer/Julia Carey (WHEATON) 6-3, 6-3 |
| | Emily Kaczmarek/Chelsea Lavin (AUGIE) finishes fourth |
2011-12 AUGUSTANA SUPERLATIVES
CCIW ALL-CONFERENCE PLAYERS: Kim Sawyer (1 st team), Brittany Reece (2 nd team)
CCIW TEAM FINISH: 4 th place
MOST SINGLES WINS: Kim Sawyer (17-4)
MOST DOUBLES WINS: Brittany Reece (11—10 with partner Krista Panko, 1 with Kim Sawyer)
CCIW "PLAYER OF THE WEEK": Kim Sawyer (09/14/11)