October 16, 2011
2011 Season - Augustana wins Quad City battle 3-1 over SAU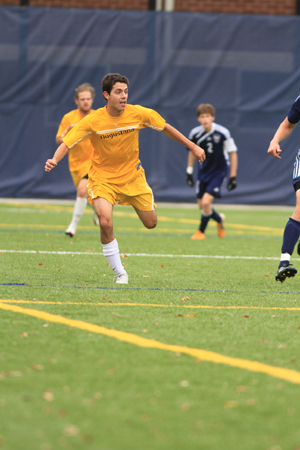 Junior Nick Wolfe picked up his fifth assist of the season Sunday, tying him for the team lead, as Augustana defeated St. Ambrose 3-1 at Thorson-Lucken Field.
ROCK ISLAND, Ill.-Sean Fidlow (Carmel HS, Gurnee, Ill.) scored twice and John McSpadden (Geneva HS, Geneva, Ill.) had a goal and an assist Sunday as Augustana won the battle of the Quad Cities with a 3-1 over St. Ambrose at Thorson-Lucken Field. With the win, coach Brenton Joseph's Vikings are now 11-4 on the year, the most wins for the program since going 13-6-1 in 2003.
McSpadden put the Vikings on the board in the sixth minute with his third goal of the season. Kevin Wyrostek (Naperville North HS, Naperville, Ill.) and Nick Wolfe (Neuqua Valley HS, Naperville, Ill.) were credited with assists on the play. Augustana extended its lead to 2-0 in the 16th minute when Fidlow found the net with his 10th goal of the season off a feed from Matt Shipon (South Elgin HS, Elgin, Ill.).
Augustana controlled play early in the period, building up a 9-1 edge in shot attempts before St. Ambrose began to turn the tables. The visitors cut the Viking lead to 2-1 in the 24th minute when Jacob Peiper scored his second goal of the season off a nice pass from Mark Serio. By the end of the half, the Bees had cut Augustana's advantage in shots to just 11-7.
The hosts re-established themselves in the second half and Fidlow pushed the lead back to two goals with his team-leading 11th goal of the season in the 75th minute. McSpadden recorded his third assist of the season on the play. The Vikings outshot St. Ambrose 12-2 in the second half and 23-9 for the game and went on to the 3-1 victory.
Sophomore Steve Zahrobsky (Downers Grove South HS, Woodridge, Ill.) and freshman Brett Johnson (Zion Benton HS, Beack Park, Ill.) each played a half in goal for the Vikings. Zahrobsky went the first 45 minutes before Johnson relieved him.
The win was Augustana's third in five meeting between the schools.
On Wednesday, October 19, the Vikings are again back at Thorson-Lucken Field for a match with Wheaton scheduled to kick off at 7:30 p.m.