October 15, 2011
2011 Season - Augustana downs Carthage 19-13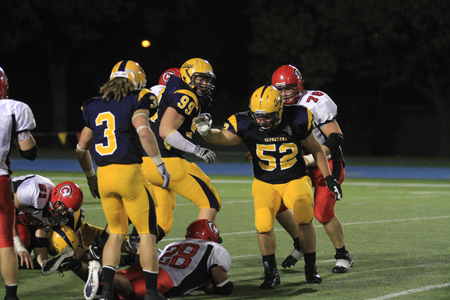 Carl Hartweg (99) led the Vikings with eight tackles and Rob Mago (3) and Kyle Voda (52) both came up big defensively in Augustana's 19-13 win over Carthage Saturday at Ericson Field.
ROCK ISLAND, Ill.-Defense and special teams were the keys Saturday night at Ericson Field as Augustana defeated Carthage 19-13 in College Conference of Illinois & Wisconsin play. The win snaps a string of heartbreaking setbacks for the Vikings and improves the team's record to 1-5 on the year and 1-2 in conference action. Carthage falls to 4-2 overall and 1-2 in the league.
The Viking defense intercepted a pair of Carthage passes and recorded a safety, while the special teams unit blocked a Red Men punt, averaged 30 yards per kickoff return and got another big night from the CCIW's leading punter, Arnie Fitzwater (Union HS, Waterford, Wis.).
Carthage got on the board first, driving 63 yards in nine plays before Kurt Krause's 31-yard field goal put the Red Men on top 3-0. Augustana's Sean Walker (Annawan HS, Annawan, Ill.) returned the ensuing kickoff 36 yards to the Viking 45-yard line but coughed the ball up and the Red Men were back in business. Six plays later, quarterback T.J. Trepanier took it in from one yard out to make it 10-0. Trepanier accounted for 43 of the 45 yards on the drive, 35 of them on the ground.
After freshman Antonio Owens (Naperville North HS, Naperville, Ill.) brought the ensuing kickoff back 46 yards into Red Men territory, Carthage stuffed the Vikings on fourth-and-two from the 36-yard line to retake possession. That's when Ben Hall (University HS, Normal, Ill.) came up with the first big defensive play of the night, stepping in front of a Trepanier pass at midfield and returning it to the Carthage 11-yard line to set up Augustana's first score. Brady Rogers (Cherokee Trail HS, Aurora, Colo.) knocked through a 24-yard field goal to make the score 10-3.
Another interception followed by a penalty set the tying score. Carthage had driven to the Viking 40-yard line and on third-and-nine Trepanier attempted to hit Chris Schulz inside the Viking 20. However Augustana freshman Bo Goshorn (Romeoville HS, Romeoville, Ill.) was able to wrestle the ball away and return the interception to the Viking 34. The officials tacked on another 15 yards for a late hit and Augustana was able to start a yard shy of midfield.
Senior quarterback David Lee (Springfield HS, Springfield, Ill.) went right to work, finding tight end Jack Gilleland (Marian Central, McHenry, Ill.) for 16 yards, then keeping it and busting off a 20-yard run on the next play. Two plays later, Zachary McCullough (St. Charles North HS, St. Charles, Ill.) went in from 13 yards out on a reverse off of a jet sweep. Rogers' PAT tied it at 10 and that's how the half ended.
After blocking a first half Carthage punt, special teams came up big again on the opening possession of the second half. On fourth-and-nine from his own 31, Schulz attempted to run for the first down out of punt formation and the Vikings stopped him a yard short. Lee found Nick Krantz (Moline HS, Moline, Ill.) for gains of nine and seven yards, rushed for 15 himself and then hit Krantz again in the right corner of the end zone for a 17-10 lead.
Two possessions later, a 42-yard Fitzwater punt pinned the Red men at their own one-yard line. After Pete Schimeck (Benet Academy, Naperville, Ill.) knocked down a Trepanier pass on first down, the Carthage quarterback bobbled the snap on second down and was tackled in the end zone by Kyle Voda (Plainfield South HS, Plainfield, Ill.) for a safety and a 19-10 Viking lead with 6:13 left in the third quarter.
From there, the defenses took over. Carthage missed an opportunity early in the fourth quarter when Krause's 44-yard field goal attempt hooked left. However, he got another chance with 4:08 left in the game. This time, his 42-yarder hit the right upright and bounced through to cut the Viking lead to 19-13.
The Red Men got one last chance. Taking over at their own 34-yard line with 2:33 left, they drove to the Augustana 18, but Trepanier's fourth-and-six pass attempt to Mike Koeneman in the end zone was broken up by Rob Mago (Cary-Grove HS, Cary, Ill.) to lock up the Vikings' first win of the season and Rob Cushman's first win as Augustana's head coach.
The win was Augustana's 62nd against just 14 losses in the series, which has also seen five ties. The Red Men have not won in Rock Island since a 1970 win at Rock Island Public Schools Stadium and not since 1962 at Ericson Field, a span 24 games.
Lee led the offense with 124 passing yards and another hard-fought 39 on the ground. McCullough, Krantz and A.J. Hoger (Cary-Grove HS, Cary, Ill.) each had three catches.
Carl Hartweg (Illini West HS, Carthage, Ill.) led the Viking defense with eight tackles, all of the solo variety. Defensive end Matt Franzen (Niles Notre Dame HS, Chicago, Ill.) came off the bench and had two big second-half sacks.
Next Saturday, October 22, Augustana hosts North Park as part of Homecoming festivities. That game is scheduled for 1:00 p.m. at Ericson Field.