October 15, 2011
2011 Season - Women's soccer stays unbeaten in CCIW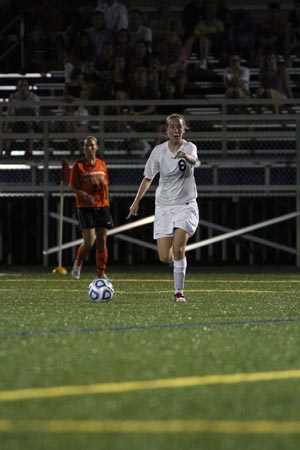 Junior Taylor Moesle scored a pair of goals Saturday night as Augustana defeated North Park 3-0 to stay undefeated in CCIW action.
CHICAGO, Illinois - Two first half goals off the foot of junior Taylor Moesle (Carl Sandburg HS, Orland Park, Ill.) proved to be the impetus that Augustana needed as the Vikings defeated North Park 3-0 on Saturday, October 15 in Chicago, Illinois. With the victory, Scott Mejia's team stayed undefeated in College Conference of Illinois & Wisconsin play.
Moesle scored her first goal of the match just 12:20 into the action and it was unassisted. She tallied her second at the 35:59 mark as Augustana went into halftime with a 2-0 lead. Senior Ashley Higuchi (Smoky Hill HS, Aurora, Colo.) scored an unassisted goal in the second half at the 68:37 mark to account for the final score.
Moesle now has six goals on the season, and coupled with her eight assists, leads the Vikings in scoring with 20 points. Higuchi has scored five goals and has five assists for 15 points.
Senior goal keeper Kayla Radloff (West Chicago HS, West Chicago, Ill.) recorded three saves as she picked up the victory to move to 8-4-1 on the season and she has had a hand in eight shutouts.
Augustana held an 18-10 advantage in shots and a 6-4 edge in corner kicks.
The Vikings are now 10-4-1 overall and a perfect 3-0 in the CCIW heading into crucial games this week against Wheaton and Illinois Wesleyan. North Park falls to 6-7-1 and 2-3-0.