October 15, 2011
2011 Season - Vikings 10th at UW-Oshkosh Invitational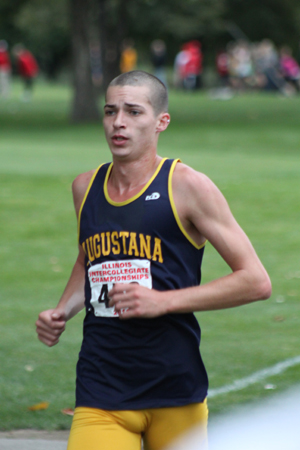 Senior Billy TenBusch finished second among Augustana competitors Saturday, running a 48th-place 26:04 at the UW-Oshkosh Brooks Invitational.
OSHKOSH, Wisconsin - The competition at the Wisconsin-Oshkosh Brooks Invitational on Saturday, October 15 was incredibly tough and Augustana's 12th ranked men's cross country team found itself in the midst of a "mini" national meet. The Vikings of veteran head coach Paul Olsen placed 10th in the 47-team meet at Lake Breeze Golf Course with 278 points.
Top ranked North Central won the event with 49 points while fifth rated Washington took second with 137. Wheaton, which was just 29th in the weekly NCAA Division III poll, placed third with 154. Calvin (3rd) was fourth with 156 and host Wisconsin-Oshkosh (8th) was fifth with 158. The rest of the top 10 looked like this: Chicago (18th) was sixth with 231, M.I.T. (7th) placed seventh with 240, NYU (13th) was eighth with 246, Wisconsin-Platteville (21st) was ninth with 251 and Augustana (12th) was 10th with 278. The Vikings finished ahead of nationally ranked Wisconsin-Stevens Point (20th) and Wabash (15th). UW-Stevens Point was 11th with 325 and Wabash came in 12th with 377.
Senior Mike Tisza (Hersey HS, Prospect Heights, Ill.) was the top Augustana finisher with a 35th place in 25:53. Senior Billy TenBusch (Prairie Ridge HS, Cary, Ill.) was 48th in 26:04. Junior Justin Smith (Fenton HS, Bensenville, Ill.) placed 55th in 26:07, junior Nathan Smith (Fenton HS, Bensenville, Ill.) was 67th in 26:15 and junior Jonathan Smith (Moline HS, Moline, Ill.) took 73rd in 26:17.
Junior Brian Pollastrini (York HS, Elmhurst, Ill.) was 112th in 26:39 and senior Thomas Christian (Port Angeles HS, Port Angeles, Wash.) was seventh man in 136th place with a time of 26:55.
The individual winner was Tim Nelson of Wisconsin-Stout who covered the 8000 meter layout in 24:46, 14 seconds ahead of runner-up Michael Burnstein of Washington.
Augustana will have next week off before competing in the College Conference of Illinois & Wisconsin championship on Saturday, October 29 at Montrose Harbor in Chicago, Illinois.