October 14, 2011
2011 Season - Vikings second at Loras Invitational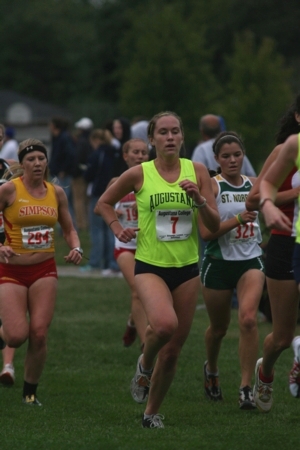 Theresa Coverick ran an 11th-place 24:36.4 Friday to help Augustana finish second at the Loras Invitational.
DUBUQUE, Iowa - Three runners in the top 10 keyed the way for Augustana's second place finish at the Dr. Robert Tucker - Loras Invitational in women's cross country on Friday, October 14. The Vikings scored 43 points, just three behind the host Duhawks at the Dubuque Soccer Complex.
Loras won with 40 points while veteran head coach Fred Whiteside's team was second with 43. Grand View placed third with 68 and Edgewood was fourth with 112. North Iowa Community finished fifth with 113.
Junior Sarahbeth Jones (Warren Township HS, Wadsworth, Ill.) once again led Augustana. She was third with a time of 23:24.1. Obsie Birru of Grand View won the 6000 meter race with a time of 22:20.9 while Anna Buenneke of North Iowa took second in 23:09.7.
Freshman Becca Sund (Palatine HS, Palatine, Ill.) continued her fine running in her initial collegiate season as she placed fifth in 23:34.9. Another freshman, Stephanie Burbidge (Palatine HS, Palatine, Ill.) was also in the top 10 with a time of 24:31.9 that placed her 10th.
Junior Theresa Coverick (Stagg HS, Palos Park, Ill.) finished 11th in 24:36.4 and junior Annie Hefner (Oregon HS, Oregon, Wis.) was the fifth runner for the Vikings. She placed 15th in 24:57.4.
Freshman Kristyn Barton (York HS, Elmhurst, Ill.) took 16th in 25:01.9 and freshman Lizzie Lundine (Willowbrook HS, Villa Park, Ill.) made her first appearance in the top seven this year. She was 19th overall with a time of 25:19.5.
Augustana will now be off this coming week before running in the College Conference of Illinois & Wisconsin championship on Saturday, October 29 at Montrose Harbor in Chicago, Illinois.