October 12, 2011
2011 Season - Doyle, Navarro score twice in 9-0 win over Knox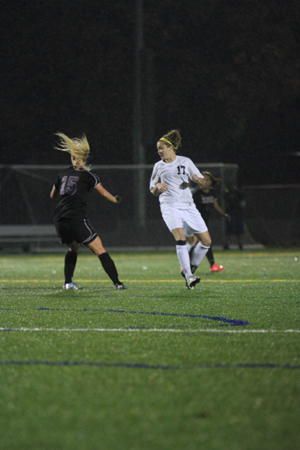 Senior Jenna Doyle had a pair of goals in Augustana's 9-0 win over Knox Wednesday at Thorson-Lucken Field.
ROCK ISLAND, Ill.- It took just 24 seconds for senior Jessica Dodds (Linn-Mar HS, Marion, Iowa) to get Augustana on the scoreboard Wednesday night and the Vikings went on to a 9-0 win over Knox at Thorson-Lucken Field. Senior Jenna Doyle (Regis Jesuit HS, Parker, Colo.) and freshman Taylor Navarro (York HS, Elmhurst, Ill.) each had two goals on the night for 9-4-1 Augustana.
Dodds second goal of the season came on an assist from senior Erin Coulson (Naperville, Ill. Neuqua Valley HS, Hermosa Beach, Calif.), who in turn scored her fourth goal of the year off a Taylor Moesle (Sandburg HS, Orland Park, Ill.) assist in the 17th minute to make it 2-0 Vikings.
Moesle then made it 3-0 in the 25th minute, scoring her fourth goal of the season on an assist from Navarro. Junior Courtney Linn (Pleasant Valley HS, Bettendorf, Iowa) headed in a Morgan Olsen (Downers Grove North HS, Woodridge, Ill.) corner kick in the 29th minute to make it 4-0. It was Linn's first career goal for the Vikings. Navarro's third goal of the season closed out the first half scoring. Allison Frickman (Loveland HS, Loveland, Colo.) assisted on the play.
Seniors Dodds and Ashley Higuchi (Smoky Hill HS, Aurora, Colo.) teamed up to make it 6-0 in the 49th minute. Higuchi scored her fourth goal of the season with Dodds assisting. Doyle's goals pushed the lead to 8-0. The first came on an assist from freshman Kimberly Grimmer (Downers Grove South HS, Woodridge, Ill.) in the 75th minute and the second came in the 80th minute with Frickman getting credit for the helper.
Navarro's 25-yard blast in the 82nd minute capped the scoring. The goal was her second of the night and fourth of the year.
The hosts piled up a 50-1 edge in shot attempts and a 15-0 advantage in corners. Knox fell to 2-8-1 on the year.
Augustana gets back into CCIW play on Saturday, October 15, when they face North Park in Chicago, Illinois. That match is scheduled to kick off at 7:00 p.m.