October 12, 2011
2011 Season - Vikings ranked 12th in men's cross country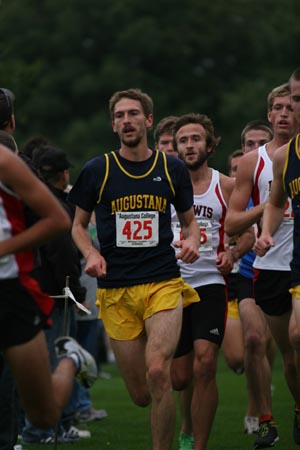 Mike Tisza has been the number one runner for Augustana in two meets so far this season for the 12th ranked Vikings.
After finishing second to unranked Loras last weekend at the Dan Huston Invitational in Waverly, Iowa, Augustana dropped two notches in the NCAA Division III national cross country rankings. Head coach Paul Olsen's team garnered 176 points and fell from 10 th to 12 th place in the poll released today by the United States Track & Field/ Cross Country Association.
After starting the season in the 20 th position, the Vikings moved to 12 th for two weeks, went to 11 th following a dominating win at the 33-team Brissman-Lundeen Invitational on Friday, September 23. A week ago they jumped up to 10 th before falling to 12 th this week.
So far this season, Augustana has a win at the Brissman-Lundeen Invitational, runner-up finishes at the Luther and Dan Huston Invitational and a sixth at the Illinois Intercollegiate Championships.
The national poll is filled with teams hailing from the Viking's Midwest Region. Nine teams from the region cracked the top 30, with Augustana's College Conference of Illinois and Wisconsin rival North Central holding onto the number one spot it has held the entire season. Midwest region teams joining them include Washington (5 th), Wisconsin-Oshkosh (8 th), Augustana (12 th), Wisconsin-LaCrosse (16 th), Chicago (18 th), Wisconsin-Stevens Point (20 th), Wisconsin-Platteville (21 st), and Wheaton (29 th).
Augustana will face some of the top teams in the nation this Saturday, October 15 at the Wisconsin-Oshkosh Invitational in Oshkosh, Wisconsin.
USTFCCA WEEKLY POLL #5 (as of 10/12/11)
| | | | | | |
| --- | --- | --- | --- | --- | --- |
| RANK | SCHOOL | POINTS | REGION | CONFERENCE | LAST WEEK |
| 1. | North Central (5) | 277 | Midwest | CCIW | 1 |
| 2. | Haverford (3) | 274 | Mideast | Centennial | 2 |
| 3. | Calvin | 265 | Great Lakes | MIAA | 3 |
| 4. | Dickinson | 245 | Mideast | Centennial | 6 |
| 5 | Washington | 242 | Midwest | UAA | 4 |
| 6. | Middlebury | 238 | New England | NESCAC | 13 |
| 7. | MIT | 230 | New England | NEWMAC | 7 |
| 8. | Wisconsin-Oshkosh | 225 | Midwest | WIAC | 7 |
| 9. | Bates | 220 | New England | NESCAC | 22 |
| 10. | St. Lawrence | 203 | Atlantic | Liberty | 11 |
| 11. | SUNY-Geneseo | 190 | Atlantic | SUNYAC | 5 |
| 12. | AUGUSTANA | 176 | Midwest | CCIW | 10 |
| 13. (tie) | Williams | 173 | New England | NESCAC | 9 |
| 13. (tie) | NYU | 173 | Atlantic | UAA | 13 |
| 15. | Wabash | 169 | Great Lakes | NCAC | 14 |