October 12, 2011
2011 Season - Men jump to 7th in Central Region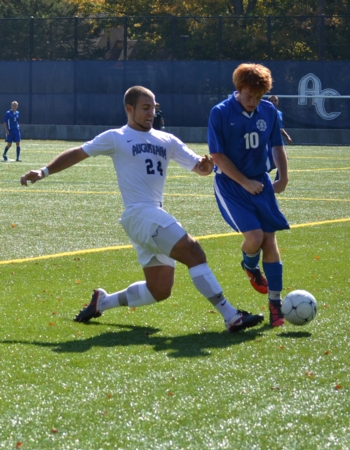 Sophomore Michael Buric is one of the leaders of an Augustana defense that has allowed just five goals this season. The Vikings climbed one spot to seventh in the latest NSCAA Central Region rankings.
ROCK ISLAND, Ill. - A 2-0 win over Millikin on Saturday, October 8 moved coach Brenton Joseph's men's soccer team to 10-3-0 on the year and as a result, the Vikings have climbed one spot in this week's National Soccer Coaches Association of America Division III Central Region rankings. Rated eighth last week, Augustana is now tied in the seventh spot with Olivet (9-3-1).
Washington University, at 10-1-0, is the new number one in the Central Region. The Bears ascended to the top spot after previously top-ranked Dominican (11-2-0) lost 5-0 at Loras last week. North Park and Carthage join Augustana as CCIW members in the poll. North Park, at 7-0-5, is ranked second and the Red Men, at 7-4-2, sit one spot ahead Augustana in sixth.
Joseph's Vikings are in action next on Friday, October 14, taking on second-ranked North Park at 7:00 p.m. in Chicago, Illinois.
2011 CENTRAL REGION RANKINGS (as of October 11, 2011)
1 - Washington (10-1-0)
2 - North Park (7-0-5)
3 - Calvin (9-3-1)
4 - Dominican (11-2-0)
5 - Hope (7-3-3)
6 - Carthage (7-4-2)
7 - AUGUSTANA (10-3-0)
7 - Olivet (9-3-1)
9 - Trine (8-2-2)
10 - Westminster (7-3-3)