October 12, 2011
2011 Season - Viking women remain 9th in Central Region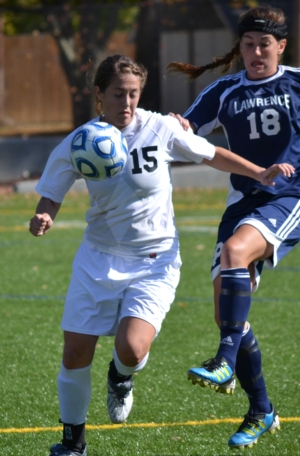 Bridget Shrigley and her Augustana teammates remain ninth in this week's NSCAA Central Region rankings.
ROCK ISLAND, Ill. - After getting shutout wins over Millikin (1-0) and Lawrence (4-0) this past weekend, coach Scott Mejia's women's soccer team held on the number nine spot in this week's National Soccer Coaches Association of America Central Region rankings. Augustana is 8-4-1 on the year and faces Knox at Thorson-Lucken Field on Wednesday, October 12 at 7:00 p.m.
The top five spots in the Central Region stayed the same as last week. Despite playing to a 0-0 tie against Kalamazoo at home, CCIW member Wheaton hung on to the top spot. The Thunder are 12-0-1 on the season. Washington University (12-2-0) remained in the number two spot, followed by another CCIW side, Illinois Wesleyan, which is rated third with a 9-2-0 ledger.
2011 NCAA DIVISION III CENTRAL REGION RANKING (as of October 11, 2011)
1-Wheaton (12-0-1)
2-Washington (12-2-0)
3-Illinois Wesleyan (9-2-0)
4-Chicago (6-4-1)
5-Aurora (11-3-0)
6-Adrian (10-3-0)
7-Principia (7-3-1)
8-Alma (10-2-1)
9-AUGUSTANA (8-4-1)
10-Hope (9-3-0)