October 11, 2011
2011 Season - North Central defeats Vikings in four sets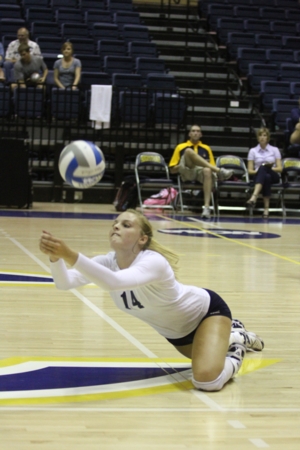 Freshman outside hitter Emily Leazer recorded a match-high 15 kills Tuesday night and also led the Vikings in digs (18) and service aces (two) in the team's four-set loss at North Central.
NAPERVILLE, Ill.-Host North Central got a balanced effort Tuesday night, with four players recording at least 11 kills each as the Cardinals defeated Augustana in four sets at Gregory Arena. Freshman Emily Leazer (St. Viator HS, Mt. Prospect, Ill.) led the Vikings with a match-high 15 kills as well as 18 digs and a pair of service aces.
North Central led wire-to-wire in a 25-15 first-set win. Augustana rallied from a six-point deficit in the second set to pull out a 26-24 victory. Trailing 24-23 with the Cardinals serving, the Vikings won the final three points capped by a Leazer ace.
The visitors jumped in front in the third set before North Central came back to get a 25-20 win. The Cardinals won six of the last seven points in the fourth set to wrap up the match with a 25-19 win.
Freshman Samantha Kammerman (Sherrard HS, Milan, Ill.) contributed 10 kills for the Vikings, while senior Brianna Skeens (Vernon Hills HS, Libertyville, Ill.) had nine. Junior setter Kelsey Mikula (Coal City HS, Morris, Ill.) had 37 assists in the match and freshman Julee Morrison (Chaparral HS, Scottsdale, Ariz.) and sophomore Katrina Colclasure (Tri-Valley HS, Bloomington, Ill.) recorded 15 and 13 digs, respectively.
Now 7-15 on the season and 1-4 in the CCIW, the Vikings will look to rebound on Wednesday, October 19 at 7:30 p.m. when they host Millikin at Carver Center.