Day of the Dead event slated for Oct. 13
October  10, 2011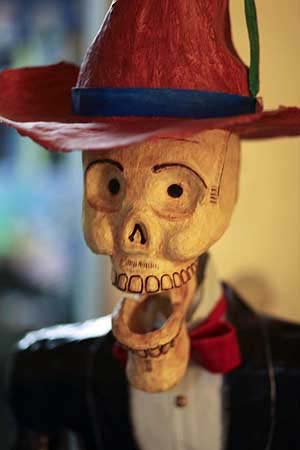 Day of the Dead
Dia de los Muertos—also known as the Day of the Dead—is a Mexican holiday that honors friends and family members who have died. Augustana College's Latinos Unidos student group will host a Day of the Dead event on Thursday, October 13, starting at 7 p.m. at Casa Latina (3416 9½ Ave.), Black Culture House (3249 10th Ave.) and Asian Culture House (912 34th Ave.).
An important activity connected with the Day of the Dead celebrations is building private altars, using sugar skulls, marigolds, and the favorite foods and beverages of the departed, to honor the deceased.
The Quad-Cities community is invited to see altars created by Augustana student groups, stroll along a luminary-lit path and enjoy free Mexican sweet bread, hot chocolate and horchata (Mexican rice water).
"It was believed that the deceased come back to earth during these days and see the altars created in their memory," said Greg Aguilar, Augustana's director of multicultural services. "It is also believed that they can hear the music that is played, and smell the food that is prepared for them. While they cannot be seen, it is alleged that their presence can be felt by those who believe."
Students will offer face painting for those who wish to celebrate by having their faces painted like a skull. "This tradition reminds the living that one day they will pass away too," Aguilar explained.
Due to class schedules, Augustana students are planning an early Day of the Dead celebration. Traditionally celebrated on November 1 and 2, the Day of the Dead is connected with two Catholic holidays—All Saints' Day and All Souls' Day.
Events like this one showcase Augustana's intentional effort to promote diversity. "Diversity is an important part of the Augustana experience," said Aguilar. "Our student body, as well as our local community, includes a wonderful mix of cultures and backgrounds. Augustana College works to meet the needs and honor the cultural traditions of all students."
Sam Schlouch
Senior Communication Director
(309) 794-7833
samschlouch@augustana.edu