October 8, 2011
2011 Season - Vikings drop four at UW-Platteville tournament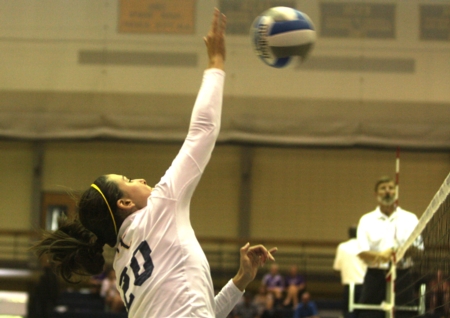 Junior middle blocker Sarah Williams was second on the team in kills and led in attack percentage at this weekend's Wisconsin-Platteville Tournament.
PLATTEVILLE, Wis.-A young Augustana team had a rough weekend against tremendous competition at the University of Wisconsin-Platteville tournament Friday and Saturday, dropping four straight matches to teams with a combined record of 68-20 this season. Two of their tournament opponents, Carthage and UW-Platteville, are ranked in the American Volleyball Coaches Association Top 25, while a third, Wartburg is receiving votes and sits just two spots outside the Top 25. The Vikings' fourth opponent, Cornell is currently unranked, but won two of three matches against ranked teams this weekend. Augustana is now 7-14 on the year and travels to Naperville, Illinois on Tuesday, October 11 to face North Central in a CCIW match scheduled for 7:00 p.m.
UW-Platteville 3, Augustana 1 (25-17; 23-25; 25-9; 25-17)
The Vikings opened tournament play on Friday against the 24th-ranked hosts. After a 25-17 first-set loss, Augustana was able to take the second 25-23 before the Pioneers took the final two by scores of 25-9 and 25-17. The Vikings got eight kills and 11 digs from Kristen Yerkes (Marist HS, Palos Heights, Ill.) and seven kills from Samantha Kammerman (Sherrard HS, Milan, Ill.). In addition, Kelsey Mikula (Coal City HS, Morris, Ill.) was credited with 26 assists and Katrina Colclasure (Tri-Valley HS, Bloomington, Ill.) with 17 digs. UW-Platteville was led by 14 kills from LeeAnn Mizgalski and 13 from Stephanie Kirchner and improved to 16-6 on the year.
Carthage 3, Augustana 0 (25-14; 25-14; 25-9)
The 7th-ranked Lady Reds of Carthage got a three-set win over the Vikings in Friday's second match, winning the first two by identical 25-14 scores and the final 25-9. Brianna Skeens (Vernon Hills HS, Libertyville, Ill.), Sarah Williams (Rockford Lutheran HS, Loves Park, Ill.) and Yerkes shared the team lead with four kills each. Mikula and Colclasure were again the leaders in assists and digs with 16 and eight, respectively. Cindy Cavanaugh's nine kills led the Lady Reds, who won their 17th match against just two losses.
Wartburg 3, Augustana 0 (25-18; 25-8; 25-20)
On Saturday, the Vikings opened play against Wartburg and fell in three sets, 25-18, 25-8 and 25-20. Skeens' six kills led the way, as did Mikula's 12 assists. Freshman Emily Leazer (St. Viator HS, Mt. Prospect, Ill.) had a team-high 11 digs and Yerkes added 10. The Knights, who improved to 18-7, got eight kills from Kelly Niemann, 23 assists from Ramey Sieck and 13 digs from Marissa Shinstie.
Cornell 3, Augustana 0 (25-16; 25-9; 25-8)
Augustana final tournament opponent was a Cornell team that, although not currently ranked, was coming off wins over both Wartburg and UW-Platteville. The Rams got the best of Augustana in three sets, 25-16, 25-9 and 25-8. Skeens and Williams shared the team lead with four kills each. Freshman Stephanie Petkovsek (Lisle HS, Lisle, Ill.) had a team-high six assists, while Colclasure had six digs and Leazer five. Taylor Dicus led 17-5 Cornell with 11 kills. Sabrina Hargis had 20 assists and Kylea Weber was credited with 15 digs.