October 9, 2011
2011 Season - Vikings shut out Lawrence 4-0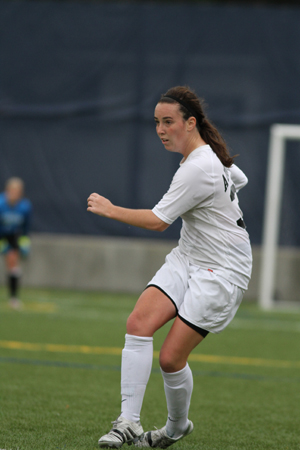 Senior defender Mary Pat Holtrop got her first goal of the season in Augustana's 4-0 win over Lawrence Sunday at Thorson-Lucken Field.
ROCK ISLAND, Ill.- A Bridget Shrigley (Wheaton Warrenville South HS, Wheaton, Ill.) goal in the 17th minute got Augustana started Sunday and the Vikings went on to post a 4-0 win over their namesakes from Lawrence. Augustana got goals from four different players in the match to improve to 8-4-1 on the year. Lawrence falls to 3-9-1.
Shrigley's goal was a header off an Ashley Higuchi (Smoky Hill HS, Aurora, Colo.) corner kick from the right side. In the 22nd minute, it was a Higuchi header off a beautiful Taylor Moesle (Sandburg HS, Orland Park, Ill.) feed that gave Augustana a 2-0 advantage which they took to intermission. The goal was Higuchi's third of the season.
In the 71st minute, senior defender Mary Pat Holtrop (St. Charles North HS, St. Charles, Ill.) corralled the rebound of her own shot and found the net for her first goal of the season to make the score 3-0. Four minutes later, senior Erin Coulson (Naperville, Ill. Neuqua Valley HS, Hermosa Beach, Calif.) took another nice Moesle feed and got ahead of the defense to score her third goal of the year and account for the final score. Moesle's second assist of the day was her team-high seventh on the year.
For the game, the hosts outshot Lawrence by a 39-2 margin and also held an 11-0 edge in corners.
Senior Kayla Radloff (West Chicago HS, West Chicago, Ill.) and junior Bridget McDermott (Prospect HS, Mt. Prospect, Ill.) split time evenly in goal. Radloff played the first half and recorded Augustana's only save on the day.
Next up for coach Scott Mejia's Vikings is another non-conference contest at Thorson-Lucken Field against Knox. Game time for that match on Wednesday, October 12 is 7:00 p.m.