October 8, 2011
2011 Season - Jones and Vikings win at SAU Invite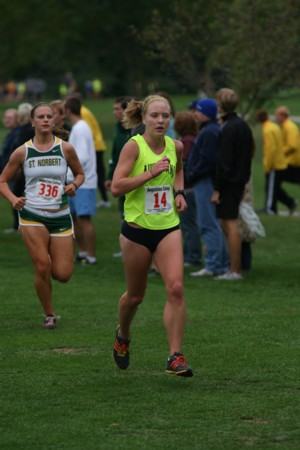 Sarahbeth Jones was the individual winner and helped the Vikings to the team championship at the St. Ambrose Invitational Saturday at Crow Creek Park.
BETTENDORF, Iowa - After taking a week off from competing, Augustana junior Sarahbeth Jones (Warren Township HS, Wadsworth, Ill.) came back stronger than ever. She rolled to a 28 second victory at the St. Ambrose Invitational on Saturday, October 8 at Crow Creek Park in Bettendorf, Iowa and led the Vikings to the team title also.
Last week at the Coe Invitational, Jones sat out the meet after stringing together four straight superb performances to start the 2011 season. Obviously the break didn't hurt her as she won the meet on the hilly Crow Creek layout with a time of 19:41. She finished comfortably ahead of runner-up Sarahbeth Miller of Judson, who placed second with a time of 20:09.
With Jones in her customary front-running position, Augustana benefitted as a team, squeaking out a narrow one-point victory over Judson in the six-team field. The Vikings had 35 points while Judson was second with 36. Mount Mercy placed third with 73 and St. Ambrose was fourth with 92. Clarke (137) and Sauk Valley (181) rounded out the field.
There was plenty of support from the Augustana pack finishing behind Jones. Sophomore Kristyn Barton (York HS, Elmhurst, Ill.) took sixth with a time of 20:26 and two freshmen chased her into the chute. Stephanie Burbidge (Palatine HS, Palatine, Ill.) was seventh in 20:29 and Becca Sund (Palatine HS, Palatine, Ill.) placed eighth in 20:30. That gave the Vikings four finishers in the meet's top 10, which matched Judson, who also had four in the top 10.
Junior Annie Heifner (Oregon HS, Oregon, Ill.) placed 13th in 20:55 as Augustana's fifth finisher and that proved to be enough to nail down the first place trophy.
Junior Theresa Coverick (Stagg HS, Palos Park, Ill.) was 16th in 21:02 and freshman Jessica Bacon (Rock Island HS, Rock Island, Ill.) took 20th in 21:14.
This was the second straight team championship for veteran head coach Fred Whiteside's Vikings in as many weeks. Last Friday night, September 30, Augustana won the Coe Invitational in Cedar Rapids, Iowa. The Vikings will travel to Dubuque, Iowa on Friday, October 14 to compete in the Loras Invitational.