October 8, 2011
2011 Season - Augustana falls 24-3 at No. 6 North Central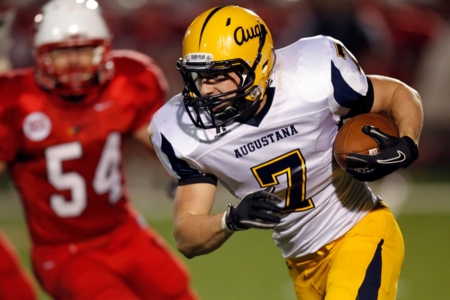 Sophomore Sean Walker had a 46-yard kickoff return Saturday night and led the Vikings with 75 all-purpose yards in a 24-3 loss at North Central.
NAPERVILLE, Ill.-With seven minutes to go in Saturday's game at North Central, Augustana trailed just 10-3 and was driving with the ball near midfield. Unfortunately, the Vikings couldn't convert a third-and-six from their own 49-yard line and had to punt the ball away. The sixth-ranked Cardinals went on to score two touchdowns in the game's final 1:20 to claim a 24-3 victory.
Despite holding the Vikings to just one first down--and that via penalty--in the first half, North Central led just 7-0 at intermission. The Cardinals missed a 25-yard field goal attempt on their first possession and Augustana forced them to punt on their second. A 38-yard Tyler Dicken to Jeff Stolzenburg completion set up a one-yard touchdown run by Nick Kukuc on North Central's third possession and the Cardinals led 7-0. The drive covered 40 yards in just three plays.
The Vikings forced North Central to punt on its next two possessions and then came up with a big stop on fourth and four from the Augustana 43 with just over three minutes left in the half. The Cardinals got the ball back one more time, moving from their own five-yard line to their own 30 before time ran out.
On the opening play of the second half, senior quarterback David Lee (Springfield HS, Springfield, Ill.) hooked up with senior Jordan Peart (Marion Central HS, Bull Valley, Ill.) on a 24-yard completion for the Vikings' first non-penalty first down of the night. From there, the Cardinal defense stiffened again and forced one of 10 Arnie Fitzwater (Union HS, Waterford, Wis.) punts on the evening. North Central then went 58 yards in 11 plays and took a 10-0 lead on a 34-yard Nick Dace field goal. The key play in the drive was a 23-yard Dicken-to-Nick Hicks pass on third-and-16 from their own 19-yard line.
After forcing another Viking punt, which Joe Antonacci returned 47 yards to the Augustana 36, the Cardinals were in position to put another field goal on the board with four minutes left in the third. However, senior Matt Glawe (Wheaton Warrenville South HS, Winfield, Ill.) got a hand on Dace's 43-yard attempt and Augustana's Rob Mago (Cary-Grove HS, Cary, Ill.) recovered to end the threat.
The Vikings responded with their only scoring drive of the night, going 65 yards in eight plays to set up a 25-yard Brady Rogers (Cherokee Trail HS, Aurora, Colo.) field goal. Lee started the march with back-to-back nine-yard connections with freshman Antonio Owens (Naperville North HS, Naperville, Ill.) and then finding senior Zachary McCullough (St. Charles North HS, St. Charles, Ill.) for a 28-yard completion. Lee rushed for 12 yards to the Cardinal 15-yard line and hit Jack Gilleland (Marian Central HS, McHenry, Ill.) to the eight before and incompletion and a one-yard rushing loss forced the Vikings to settle for the field goal and a 10-3 deficit.
Each team punted on its next two possessions, with the last coming after the Vikings' inability to convert that third-and-six near midfield with seven minutes left. North Central took over at its own five-yard line with 6:40 remaining. On one of the game's key plays, Dicken, facing a third-and-13 from his own two, found Chad O'Kane for a 24-yard gain to keep the drive alive. From there, the Cardinals finished off the nine-play, 95-yard march, capping it with a 42-yard touchdown run by Dicken for a 17-3 lead.
The Viking looked like they might at least make it interesting when sophomore Sean Walker (Annawan HS, Annawan, Ill.) brought the ensuing kickoff back 46 yards into Cardinal territory. Lee completed a pair of passes to get to the North Central 34, but on third-and-six, Kane Thompson picked him off and returned the interception 70 yards for a touchdown, scoring with 23 seconds left to account for the final of 24-3.
Lee finished the night 14 of 27 for 119 yards and one interception. He was also the team's leading rusher with 20 yards on eight carries. McCullough (44 yards), Peart (28) and Owens (24) each caught three passes. Sophomore linebacker Erik Westerberg (York HS, Elmhurst, Ill.), as he has all season, led the Vikings in tackles. He had 12 total including eight solo stops. Glawe (7-1--8) and Mago (5-2--7) were next. Fitzwater was outstanding again, averaging 42.8 yards on 10 punts.
Now 0-5 on the year and 0-2 in CCIW play, the Vikings return to Ericson Field next Saturday, October 15, hosting Carthage at 6:00 p.m.