October 8, 2011
2011-12 Season - Vikings fourth; Sawyer second at CCIW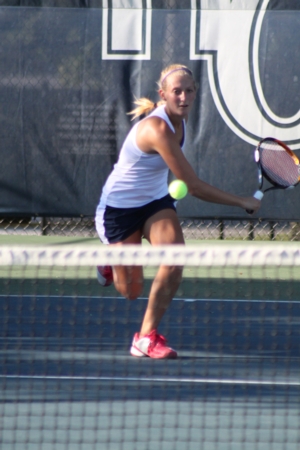 Sophomore Kim Sawyer wrapped up the fall season by taking second place at number one singles at this weekend's CCIW Championship.
KENOSHA, Wis.-Behind Kim Sawyer's (Batavia HS, Batavia, Ill.) second-place finish at number one singles, the Augustana women's tennis team took fourth place at the College Conference of Illinois & Wisconsin Championship which concluded Saturday. Sawyer, a sophomore, fell 6-1 and 6-2 to Wheaton's Elizabeth Worsowicz in her attempt to claim the top flight singles title.
Wheaton claimed the team championship as well, with 72 points. Carthage, with 45 points, was second followed by Illinois Wesleyan (35), Augustana (33), North Central (30), Elmhurst (10) and Millikin (0).
At number two singles, senior Brittany Reece (Neuqua Valley HS, Naperville, Ill.) finished fourth, dropping her third-place match to Helen Alex of Illinois Wesleyan, 8-2. Junior Krista Panko (Geneva HS, Geneva, Ill.) won her third place match at number three, defeating Lauren Drawbridge of Illinois Wesleyan, 8-1. Sophomore Katie Scharnagle (St. Francis College Prep, Lisle, Ill.) also claimed a third-place finish, winning 9-8 with a 7-3 tiebreaker over Carthage's Abby Ludwig at number five. Sophomore Mariah Bardo (Sterling HS, Sterling, Ill.) finished fourth at number six, falling 8-5 to Tata Casey of Illinois Wesleyan.
In number one doubles competition, Sawyer and junior Meghan Wethington (Geneseo HS, Geneseo, Ill.) opened with a 6-1, 6-0 loss to IWU's Alex and Andrea Kerwin, received a bye, then defeated Cory Schillerstrom and Katie Hatch of North Central 9-8, taking the tiebreaker 7-5. The pair then dropped an 8-3 decision to Alex and Kerwin in the third-place match.
At number two doubles, Panko and Reece dropped their semifinal match, 6-3, 4-6, 6-4 to Wheaton's Melanie Milling and Marissa Shults. They bounced back with an 8-3 win over Reynolds Cross and Margaret Youel of North Central to reach the third-place match, where they knocked off Drawbridge and Alissa Goetz of Illinois Wesleyan, 8-6.
The Vikings' number three doubles team of Chelsea Lavin (Downers Grove South HS, Downers Grove, Ill.) and Emily Kaczmarek (Glenbard South HS, Lombard, Ill.) fell 6-3, 6-1 in the semifinals to Wheaton's Kirsten Boyer and Julia Carey. They rebounded with a 9-8 (7-5) win over the Elmhurst duo of Emily Tarlini and Nicole Darga to reach the third-place match where they dropped an 8-4 decision to Tara and Lauren Casey of Illinois Wesleyan
Coach Jon Miedema's Vikings will resume play in the spring, opening with a meet at Coe on St. Patrick's Day.