October 8, 2011
2011-12 Season - Vikings fourth at CCIW Championship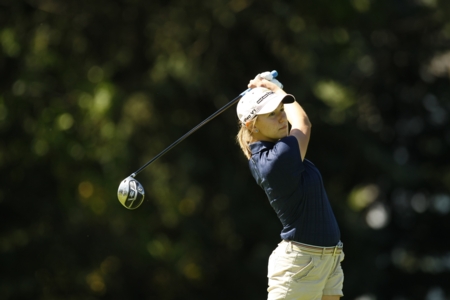 Sophomore Kelly Farina was Augustana's top individual at the CCIW Golf Championship this weekend. She finished tied for 15th and helped lead the Vikings to a fourth-place team finish.
DAVENPORT, Iowa-The Augustana women's golf team finished Saturday's final round of the College Conference of Illinois & Wisconsin Championship right where it started--in fourth place. Sophomore Kelly Farina (Normal West HS, Bloomington, Ill.) had the Vikings' best round for the second consecutive day and was the team's top individual finisher, tying for 15th place.
Illinois Wesleyan claimed its 10th straight conference championship with a three-round cumulative total of 995 strokes (317-312-326--995). North Central (339-337-337--1013) finished second followed by Carthage (339-341-339--1019). After Augustana (339-346-361--1046) in fourth, it was Elmhurst (348-346-357--1051), Millikin (342-359-360--1061) and Wheaton (352-367-348--1067). North Park (424-421-415--1260) rounded out the field in eighth place.
Farina shot an 88 on Saturday and finished with a three-round total of 259 (87-84-88--259). Junior Megan Vandersee (Sterling HS, Sterling, Ill.) ended up tied for 17th (85-87-90--262), while senior Brittany Carr (Lincoln-Way East HS, Frankfort, Ill.) (89-86-92--267) and sophomore Jamie Lawrence (Moline HS, Moline, Ill.) (84-89-94--267) tied for 21st.
Rounding out the Augustana contingent were sophomore Dena Capitani (Hinsdale Central, Hinsdale, Ill.), who finished tied for 23rd (86-89-93--268) and junior Morgan Wilkinson (Westmont HS, Westmont, Ill.), who finished in a 30th-place tie (84-96-91--271).
Illinois Wesleyan's Katie Klosterman was the individual champion with a 226 over three rounds (73-76-77--226), seven strokes ahead of second-place Brittany Holmes of Millikin (70-82-81--233).
Augustana will compete in the Ashford Invitational on Monday and Tuesday, October 17 & 18 at Short Hills Golf Course in Moline, Illinois.