October 8, 2011
2011 Season - Pollastrini, Smith go two-three at Wartburg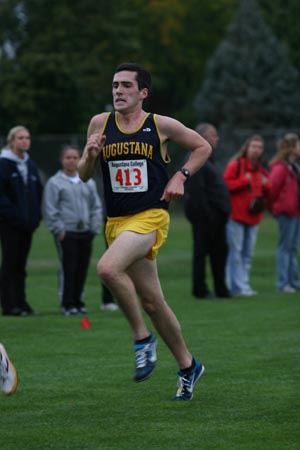 Brian Pollastrini finished second individually as Augustana, the 10th ranked team in NCAA Division III, placed second at the Dan Huston Invitational on Saturday, October 8 in Waverly, Iowa.
WAVERLY, Iowa - With three individual finishers in the top 10, Augustana placed second in the Dan Huston Invitational at the Wartburg cross country course in Waverly, Iowa on Saturday, October 8. The nationally 10th ranked Vikings scored 72 points, trailing only Loras, the fourth ranked team in the Central Region. The Duhawks scored 63 points in the 12-team field.
Behind Loras and Augustana, host Wartburg was third with 83 points and North Iowa Community was fourth with 98. Bethel (122), Wisconsin-Platteville (133), Simpson (188), Gustavus-Adolphus (216), St. Mary's (230), Monmouth (242), Buena Vista (295) and Quincy (391) rounded out the field.
Juniors Brian Pollastrini (York HS, Elmhurst, Ill.) and Jonathan Smith (Moline HS, Moline, Ill.) led the way for Augustana. Pollastrini took second with a time of 26:15 while Smith was right behind him in third with a clocking of 26:16. Ryan Edwardson of Simpson won the meet with a time of 25:35.
Senior Mike Tisza (Hersey HS, Prospect Heights, Ill.) was seventh in 26:24. Through the first three meets of the 2011 season the grouping between the top seven runners in the Augustana lineup had been impressive. At the Dan Huston Invitational the spacing grew a bit from weeks past with senior Billy TenBusch (Prairie Ridge HS, Cary, Ill.) occupying the fourth spot. He was 23rd with a time of 27:04 and junior Nathan Smith (Fenton HS, Bensenville, Ill.) was 37th in 27:28. Sophomore Tyler Busch (Winnebago HS, Winnebago, Ill.) placed 46th in 28:03 and senior Brandon Gittelman (Naperville Central HS, Naperville, Ill.) was 48th in 28:08.
Augustana, which had moved up to the 10th spot in the NCAA Division III national rankings earlier this week, will be in competition again on Saturday, October 15 at the Wisconsin-Oshkosh Invitational in Oshkosh, Wisconsin.