October 8, 2011
2011 Season - Vikings score twice in the 2nd half to defeat Millikin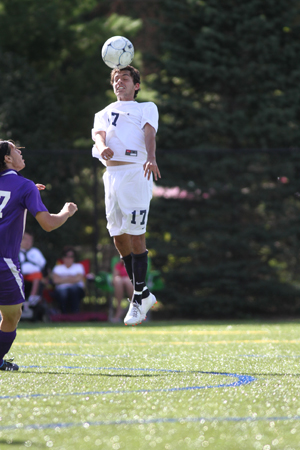 Junior midfielder Nick Wolfe asissted on a Sean Fidlow goal in the 71st minute Saturday, giving Augustana a 1-0 lead over Millikin. The Vikings went on to win the match at Thorson-Lucken Field by a score of 2-0.
ROCK ISLAND, Ill.- After almost 71 scoreless minutes against Millikin Saturday, Sean Fidlow (Carmel HS, Gurnee, Ill.) finally got Augustana on the board and Adam Wilson (Plainfield North HS, Plainfield, Ill.) added another goal nine minutes later as the Vikings went on to a 2-0 win over the Big Blue at Thorson-Lucken Field. Augustana, rated eighth in the Central Region, improves to 10-3 on the season and 1-1 in the CCIW, while Millikin falls to 0-12 and 0-2, respectively.
Fidlow's goal, the senior's team-best eighth of the season, came on an assist from junior Nick Wolfe (Neuqua Valley HS, Naperville, Ill.) in the 71st minute. The assist was Wolfe's fourth of the season, which ranks second on the team. Wilson found the net with a blast from out front on a loose ball to account for the final score.
After holding just a 9-5 edge in shots during the opening period, the hosts fired 13 in the second half to just one for Millikin. In addition to its 22-6 advantage in shot attempts, Augustana held a slight 7-6 margin in corners.
Viking Tyler Cowherd (Bettendorf HS, Bettendorf, Iowa) went 80 minutes in goal, recording two saves, before giving way to fellow sophomore Steve Zahrobsky (Downers Grove South HS, Woodridge, Ill.). The win was Cowherd's sixth of the season.
Next up for coach Brenton Joseph's crew is a date at always-tough North Park. The two squads named the Vikings square off in Chicago at 7:00 p.m. Friday, October 14.