October 7, 2011
2011-12 Season - Vikings 4th after 2nd day of CCIW tournament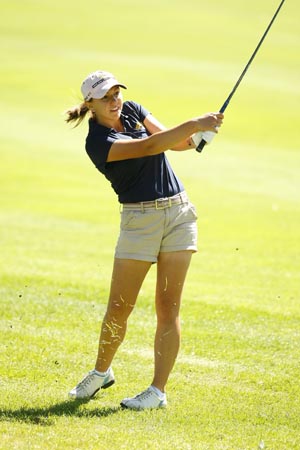 Sophomore Kelly Farina shot an 84 Friday and is the highest ranking Viking heading into Saturday's final round at the CCIW Championship. Farina's two-round total of 171 puts her in 13th place, while Augustana is fourth in the team standings.
DAVENPORT, Iowa - After finishing the first day of the College Conference of Illinois & Wisconsin women's golf tournament tied for second, Augustana slipped two notches to fourth on Friday, October 7. The Vikings of veteran head coach Ron Standley recorded a 346 on the second day at Emeis Golf Course in Davenport, Iowa and are now at 685 heading into the third and final round.
Illinois Wesleyan leads by a comfortable 47 stroke margin as the Titans have a two day total of 629 (317 + 312). North Central is second at 676 (339 + 337) while Carthage is third with a score of 680 (339 + 341). Augustana had a 339 the first day before coming home with a 346 on Friday for a fourth place total of 685. Elmhurst is fifth at 694 (348 + 346) and Millikin is sixth at 701 (342 + 359). Wheaton is seventh with 719 (352 + 367) and North Park is eighth at 845 (424 + 421).
Katie Klosterman of Illinois Wesleyan leads the tournament individually with a 149 (73 + 76) and Brittany Holmes of Millikin is second at 152 (70 + 82).
The top individual for Augustana is sophomore Kelly Farina (Normal West HS, Bloomington, Ill.) with a two day figure of 171. Farina shot 87 the first day before coming back with an 84 on Friday and she sits in 13th place. Junior Megan Vandersee (Sterling HS, Sterling, Ill.) is 16th with a score of 172 (85 + 87) and sophomore Jamie Lawrence (Moline HS, Moline, Ill.) is 18th at 173 (84 + 89).
Sophomore Dena Capitani (Hinsdale Central HS, Hinsdale, Ill.) is tied for 19th with a 175 (86 + 89). One of the players Capitani is tied with is senior teammate Brittany Carr (Lincoln-Way East HS, Frankfort, Ill.). Carr has a 175 (89 + 86). Junior Morgan Wilkinson (Westmont HS, Westmont, Ill.) shot a 96 on Friday after opening the tournament with an 84 on Thursday for a two day total of 180.
The CCIW tournament will conclude on Saturday, October 8 with the third and final round at Emeis Golf Course in Davenport, Iowa.