October 7, 2011
2011 Season - Vikings move to 10th in off-week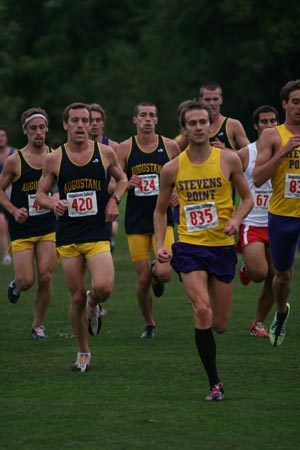 Even though they were idle last week, the Vikings moved up one spot in the NCAA Division III national polls. Augustana moved from 11th to 10th and will compete at the Wisconsin-Oshkosh Invitational on Saturday, October 8.
Despite having a week off, the Augustana men's cross country team continued it's ascension up the NCAA Division III national poll, moving up one spot to 10 th. Head coach Paul Olsen's team garnered 205 points, five more than a week ago, in the weekly rankings released by the United States Track & Field/ Cross Country Association.
Augustana had been ranked 11 th for the past week following a dominating win at the 33-team Brissman-Lundeen Invitational on Friday, September 23. Before that, the Vikings spent two weeks in the 12 th spot in the rankings after starting the season rated 20 th in the country.
The Vikings success this year has been marked by a remarkable penchant for pack running, with amazingly small spreads between the number one and seven runners. In the two major meets held so far this year, the Augie spread has been 25 seconds at the Illinois Intercollegiate Championships and 37 seconds at the Brissman-Lundeen Invitational.
The national poll is filled with teams hailing from the Viking's Midwest Region. Nine teams from the region cracked the top 35, with Augustana's College Conference of Illinois and Wisconsin rival North Central College holding onto the number one spot they have held the entire season. Midwest region teams joining them include Washington (4 th), Wisconsin-Oshkosh (T-7), Augustana (10 th), Wisconsin-LaCrosse (15), Chicago (16), Wisconsin-Stevens Point (19), Wisconsin-Platteville (20), and Wheaton (29).
The Viking harriers return to action this Saturday, October 8 th at the Wartburg Invitational in Waverly, Iowa.
USTFCCA WEEKLY POLL #4 (as of September 25, 2011)
| | | | | | |
| --- | --- | --- | --- | --- | --- |
| RANK | SCHOOL | POINTS | REGION | CONFERENCE | LAST WEEK |
| 1. | North Central (7) | 279 | Midwest | CCIW | 1 |
| 2. | Haverford (1) | 272 | Mideast | Centennial | 2 |
| 3. | Calvin | 264 | Great Lakes | MIAA | 4 |
| 4. | Washington | 252 | Midwest | UAA | 3 |
| 5. | SUNY-Geneseo | 250 | Atlantic | SUNYAC | 5 |
| 6. | Dickinson | 239 | Mideast | Centennial | 7 |
| 7. | Wisconsin-Oshkosh | 228 | Midwest | WIAC | 8 |
| 7. | MIT | 216 | New England | NEWMAC | 9 |
| 9. | Williams | 214 | New England | NESCAC | 9 |
| 10. | AUGUSTANA | 205 | Midwest | CCIW | 11 |
| 11. | St. Lawrence | 202 | Atlantic | Liberty | 6 |
| 12. | NYU | 184 | Atlantic | UAA | 12 |
| 13. | Middlebury | 182 | New England | NESCAC | 13 |
| 14. | Wabash | 177 | Great Lakes | NCAC | 15 |
| 15. | Wisconsin-La Crosse | 170 | Midwest | WIAC | 16 |