October 7, 2011
2011 Season - Women's Soccer ninth in Central Region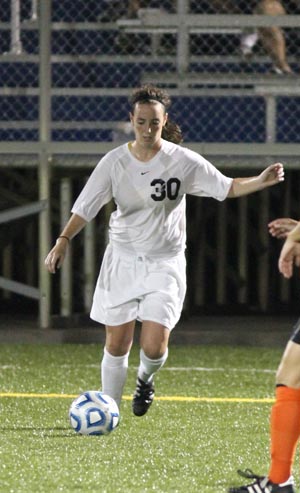 Mary Pat Holtrop and the Vikings are currently ranked ninth in the latest NCAA Division III Central Region's rankings in women's soccer.
Following a College Conference of Illinois and Wisconsin win over Carthage and losses to Wisconsin-Whitewater and Loras, the Augustana woman's soccer stayed in the ninth spot in the latest edition of the National Soccer Coaches Association of America Central Region rankings released Tuesday. The Vikings are now 6-4-1 heading into weekend games against Millikin and Lawrence.
The top spot in the Central Region continues to be held by CCIW rival Wheaton (8-0-0). Washington University (10-1-0) gained one spot to move up to second, while another CCIW school, Illinois Weseleyan (7-2-0) fell to third. They are followed by the University of Chicago (5-3-1), Aurora (9-3-0), Alma (9-1-1), Principia (6-3-1), Adrian (7-3-0), Augustana and Hope (6-3-0).
The Vikings take on the Big Blue of Millikin on October 8, starting at 2:30 at Thorson-Lucken field.
2011 NCAA DIVISION III CENTRAL REGION RANKING
As of October 6, 2011
1-Wheaton (10-0-0)
2-Washington (10-1-0)
3-Illinois Wesleyan (7-2-0)
4-Chicago (5-3-1)
5-Aurora (9-3-0)
6-Alma (9-1-0)
7-Principia (6-3-1)
8-Adrian (7-3-0)
9-AUGUSTANA (6-4-1)
10-Hope (6-3-0)