'Why people believe weird things'
October  06, 2011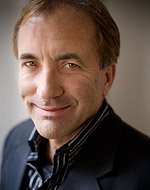 Dr. Michael Shermer
Dr. Michael Shermer, founding publisher of Skeptic magazine and director of the Skeptics Society, will speak at Augustana College on Thursday, October 13, at 7 p.m. in the Franklin W. Olin Center for Educational Technology (733 35th St.). In his free, public lecture, "Why People Believe Weird Things," Dr. Shermer will suggest why people often believe myths.
Dr. Shermer's lecture is based on his book Why People Believe Weird Things, which was first published in 1997. This year he published The Believing Brain: From Ghosts and Gods to Politics and Conspiracies—How We Construct Beliefs and Reinforce Them as Truths. His writings aim to debunk popular thinking about aliens, palm-reading and magic tricks, and he explores more serious cases of man's illogic, including issues such as Holocaust denial and dangerous religious cults.
Since founding Skeptic magazine and the Skeptics Society, Dr. Shermer has appeared on numerous top-rated television shows, including 20/20, Dateline, The Colbert Report, Larry King Live and Oprah. He also has been interviewed for documentaries airing on PBS, Discovery, the History Channel and several other educational channels.
Dr. Shermer received his bachelor's in psychology from Pepperdine University; his master's in experimental psychology from California State University, Fullerton; and his doctorate in the history of science from Claremont Graduate University. He served as a professor of psychology, evolution and science history for 20 years before retiring in 1998. Dr. Shermer continues to host the Skeptics Distinguished Science Lecture Series at California Institute of Technology and is an adjunct professor of evolutionary economics at Claremont Graduate University.
Sam Schlouch
Senior Communication Director
(309) 794-7833
samschlouch@augustana.edu