October 5, 2011
2011 Season - Men's soccer now eighth in Central Region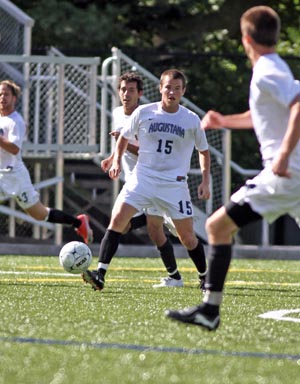 Sean Fidlow, with seven goals and five assists, leads Augustana in scoring with a total of 19 points. The Vikings are currently ranked eighth in the Central Region of NCAA Division III.
With victories in seven of the last eight matches, Augustana has been firmly entrenched in the top 10 of the NCAA Division III Central Region for men's soccer. The Vikings, now 9-3-0 overall, are currently eighth in the rankings, which are compiled by the National Soccer Coaches Association of America.
Head coach Brenton Joseph's team defeated Principia last night (October 4) by a score of 3-0 in Elsah, Illinois. Last week the Vikings were ranked sixth but a loss on Saturday night at Carthage by a score of 1-0 dropped them to eighth. Augustana has pitched eight shutouts among the nine victories.
The Vikings will host Millikin on Saturday, October 8 at 12:00 noon at Thorson-Lucken Field.
Dominican is the number one ranked team in the region with a 9-1-0 record. Augustana is one of three teams in the College Conference of Illinois & Wisconsin ranked in the top 10 in the Central Region. North park (5-0-5) is fourth while North Central (9-2-0) is ninth.
2011 CENTRAL REGION RANKINGS (as of October 5, 2011)
1 – Dominican (9-1-0)
2 – Washington (9-1-0)
3 – Olivet (9-1-1)
4 – North Park (5-0-5)
5 – Calvin (6-3-0)
6 – Chicago (5-2-2)
7 – Trine (7-1-2)
8 – AUGUSTANA (9-3-0)
9 – North Central (9-2-0)
10 – Hope (5-3-3)