October 4, 2011
2011 Season - Vikings drop 3-1 decision at UW-Whitewater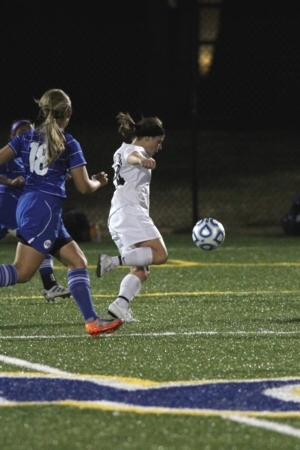 Senior Erin Coulson scored the Vikings' only goal Tuesday night as Wisconsin-Whitewater defeated the Vikings 3-1.
WHITEWATER, Wis.-Wisconsin-Whitewater's Christina Tooren scored a pair of goals just two and a half minutes apart in the first half Tuesday and the host Warhawks went on to a 3-1 win over Augustana. The lone Viking goal came from Erin Coulson (Naperville, Ill Neuqua Valley HS, Hermosa Beach, Calif.) in the 57th minute.
Tooren's second goal of the season in the 27th minute gave UW-Whitewater the lead and came on assist from Emily Gerber. In the 29th minute, Tooren again scored with Gerber and Pamela Lisowe being credited with assists on the play. The Warhawks went up 3-0 when Sarah Sedlar scored her first goal of the season in the 38th minute. Gerber's dished out her third assist of the evening on Sedlar's goal.
In the 57th minute, Coulson found the net for the second time this year to account for the final score. Taylor Moesle (Sandburg HS, Orland Park, Ill.) was credited with the assist.
UW-Whitewater, now 7-4-1 on the season, held a commanding 24-13 edge in shots, including a 15-3 advantage in the opening period.
Augustana, now 6-4-1 and rated ninth in the latest NSCAA Central Region rankings, hosts Millikin as part of a CCIW men's/women's doubleheader on Saturday, October 8. Start time is scheduled for 2:30 p.m. at Thorson-Lucken Field.