October 4, 2011
2011 Season - 24th-ranked Elmhurst beats Vikings in four sets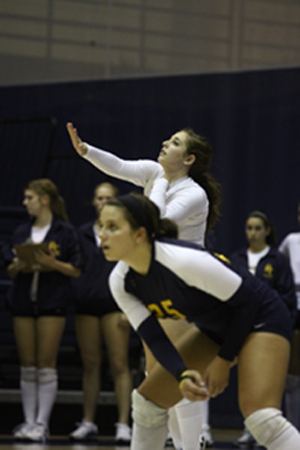 Freshman Julee Morrison contributed 13 digs and a pair of service aces in the Vikings' loss to Elmhurst Tuesday night.
ROCK ISLAND, Ill.-Elmhurst, the nation's 24th-ranked team, defeated Augustana in four sets Tuesday night at Carver Center. The win improves the Bluejays' record to 14-4 on the season and 2-2 in the CCIW, while the Vikings fall to 7-10 overall and 1-3 in the league.
Elmhurst pulled away at the end of what had been a tightly contested opening set to win 25-20. In the second set, the Vikings battled back from a big early deficit to forge an 11-all tie, only to see the Bluejays go on another run and claim the 25-19 win.
After trailing 22-18 in the third set, Augustana fought its way back to a 26-24 win. Elmhurst led wire to-wire in a 25-17 fourth-set win.
Statistical leaders for the Vikings included Brianna Skeens' (Vernon Hills HS, Libertyville, Ill.) 14 kills, followed closely by 13 from Emily Leazer (St. Viator HS, Mt. Prospect, Ill.). Leazer also contributed 15 digs in the match, second only to Katrina Colclasure's (Tri-Valley HS, Bloomington, Ill.) 27. Kelsey Mikula added 37 assists to her season total along with a pair of service aces, tying Leazer and Julee Morrison (Chaparral HS, Scottsdale, Ariz.) for tops on the team. Morrison also had 13 digs on the evening.
Next up for coach Jamie Walters' Vikings is a trip to Platteville, Wisconsin to compete in the UWP tournament. Augustana opens plays at 4:00 p.m. Friday against the hosts. At 6:00 p.m. Friday the Vikings face Carthage. On Saturday, the team's opponents will be Wartburg at 10:00 a.m. and Cornell at noon.